Oct. 16 tour sold out!
We've added an additional date: Monday, Dec. 4
Same times, fees.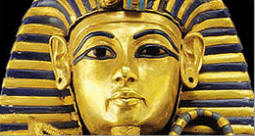 College offers King Tut tour
Discover the secrets and dazzling treasures of Egypt's most fascinating ruler on Monday, Oct. 16, with a tour of the King Tut exhibit at The Field Museum in Chicago, sponsored by Manchester College. The alumni tour is open to the public, departing at 8 a.m. from the College Union and departing from the museum at 6 p.m. Indiana time, with a boarding stop at the Center Centre in Warsaw.
The opportunity to see firsthand the treasures from King Tut's tomb and his relatives is rare; many of the artifacts in the exhibit have never before left Egypt. "Tutankhamun and the Golden Age of the Pharaohs," concludes in four months, when it returns to Egypt. Learn more about the exhibit at The Field Museum's website or click on King Tut, above.
The $60 fee covers admission to the exhibit and transportation. The bus will make one stop each way for refreshments. Meals are not provided; the museum has a bakery and McDonald's.
For more details about the King Tut tour and other Alumni Tours, contact Manchester College's Alumni Office at 982-5223, toll-free 888-257-2586 or email alumnioffice@manchester.edu. Upcoming tours include Greece, Austria and holiday shopping in downtown Chicago.