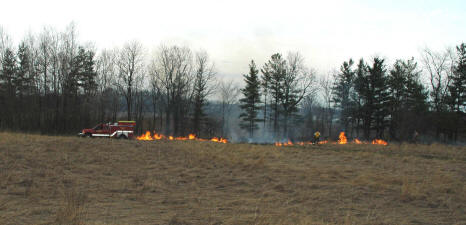 Pierceton firefighters conduct
controlled burn to rejuvenate prairie grass at College's Koinonia
Fire can be an ally to preservation of the environment. On April 6, the Pierceton Fire Department conducted a prairie burn at Koinonia Environmental and Retreat Center, owned and operated by Manchester College.
"Prairies need to be burned periodically to maintain and rejuvenate the prairie vegetation and community," said Rainn MacPhail, director of the nature center south of Pierceton.
"Without burning, a prairie will eventually become a woodland. So, we burn to help the native wildflowers and grasses grow and prevent the growth of trees and non-native or invasive species, such as wild rose." Burning also returns nutrients back to the soil, noted MacPhail, who teaches field biology and historical biology at MC.
Frogs, insects and other wildlife in the grass during the burning scurry underground or away from the flames, she said. The Koinonia burn was controlled and slow, and into the wind, providing more avenues of escape, especially for small mammals. "We chose early April for the burning precisely because it would have the least impact on the wildlife in the area," MacPhail said. "Soon the wildlife will be enjoying the flush, new growth of the prairie grasses to feed themselves and their young."
To see the prairie before, during and after the burn, visit the Koinonia website at https://www.manchester.edu/Academics/Departments/Koinonia and select "Prairie" from the menu at the top right. Update photos will be added as the grass grows. Classrooms and groups are invited to Koinonia this spring, and also to the May 4-5 Indiana Heritage Days, a program specially designed for fourth-graders. Contact Rainn MacPhail at 260-982-5010 or rlmacphail@manchester.edu