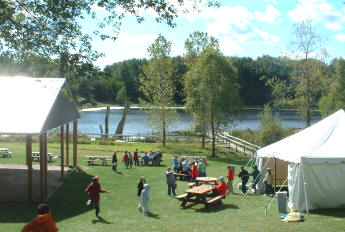 Community invited to enjoy, befriend
Koinonia Environmental and Retreat Center
at open house Monday, Oct. 2
Most area elementary teachers already know that Koinonia Environmental and Retreat Center is an incredible learning environment, and a great place to discover and enjoy the "Great Outdoors."
Residents of surrounding communities are invited to see for themselves … and learn about "The Friends of Koinonia," at an open house on Monday, Oct. 2. The entire center will be open for hiking, exploring the scores of exhibits, critters and retreat opportunities in the facilities, enjoying the fall color, lake and the prairie grass … and a campfire meal. The gathering, called Buck Night because of the modest $1 fee, is 6 to 8 p.m.
Koinonia, owned by Manchester College, is just south of Pierceton, east of Indiana 13, or about 12 miles north of North Manchester. Signs mark the way. The 100-acre ecologically diverse Kosciusko County site includes a 5-acre kettle lake, a large wetland with walkway and observation decks, and a restored prairie. It also has complete facilities for overnight retreats.
Friends of Koinonia share their time, talent, and financial gifts with the center, to benefit programming for area school children. Hundreds of area youngsters and their teachers visit the center annually for day-long learning adventures tailored to state education standards.
"Manchester College staff, students and volunteers mentor youth by example and teach them to respect and care for the environment, the creatures who live there, and the Earth," notes Koinonia Director Rainn L. MacPhail. "We want the community to know what we do at Koinonia." Friends of Koinonia support the center with their talent, time and donations.
To purchase tickets or learn more about Koinonia Environmental and Retreat Center, contact Director Rainn MacPhail at 260-982-5010 or rlmacphail@manchester.edu