Manchester College commends
two outstanding student leaders
"Be the change you want to see in the world," said Mahatma Gandhi.
Two students who exemplify Gandhi's vision have received Manchester College's top leadership awards. The world may not see the results of their dedication to service just yet, but they certainly have made an impact on campus.
Senior Patricia Thacker and junior Tihitina Dagnew demonstrate distinguished leadership and model citizenship in their service to campus and community, said Beth Switzer-Riley, vice president for student development, in presenting the awards.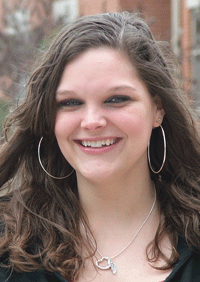 Senior Patricia Thacker of Indianapolis received the Capstone Outstanding Senior Leadership Award, recognizing achievement over the course of her entire MC career. While carrying a double major in psychology and sociology, she has served as a sociology faculty assistant and an East Hall resident assistant who has helped mentor residents into leaders.
Achieving a vast list of accomplishments while maintaining a spot on the Dean's List every semester, Thacker will graduate with honors on May 24.
During Thacker's service as president of Facts for Life, the student organization has made huge strides in popularity and successful events. The club educates MC students on alcohol, drugs and sex while providing alternative solutions to dangerous decisions. "She is truly dedicated to helping others succeed," said East Hall Director Leticia Bitner in nominating Thacker.
Junior Tihitina Dagnew of Addis Ababa, Ethiopia is Outstanding Student Leader of the Year. The political science and economics double major promotes diversity on campus and in the College, her service ranging from president of Manchester College International Association to membership on the mock trial team, Conduct Review Board and Student Alumni Council. She also is student assistant to the President's Office.
Dagnew has coordinated events on prominent women in history, feminism and community projects, and is a student writing consultant and programmer for the Office of Multicultural Services. She is "a brilliant multi-talented person who chooses to not keep her talents welled up inside her but rather puts them to the service of others, as a leader, a friend, a confidant and an advisor," said senior Ivan Mwesigwa in his nomination.
Also honored at the April 19th Leadership Recognition Banquet:
Organizations of the Year: Manchester College International Association and Student Alumni Council

Program of the Year: Rock the Vote by the Political Science Club

Member of the Year: Senior psychology major Danielle Walker, a member of the Student Alumni Council

Advisor of the Year: Jacquilline Nagila, director of multicultural services and campus Diversity; and advisor to Asian Awareness Association, Black Student Union, Hispanos Unidos and Manchester College International Association
May 2009