Manchester kids learn how
to "Talk it Out" from MC students with a mission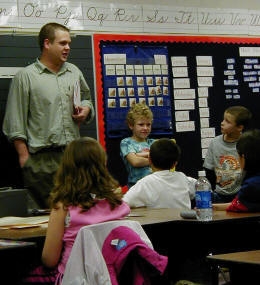 Manchester Elementary School students are excellent conversationalists, especially when it comes to working out problems. Through Manchester College's "Let's Talk it Out" program, elementary students learn to talk through problems, demonstrating respect for other opinions and conflict resolution.
This school year, 23 Manchester College students trained 121 first-graders and 96 second-graders in conflict resolution skills. The project is part of an MC course, Intercultural Communication, taught by Associate Professor Mary P. Lahman. The goal was to translate intercultural communication principles into five 20-minute lessons for the elementary students.
Students young and older did skits on keeping "anger elevators" on the first floor, recognizing differences in perception, learning to listen to each other and brainstorming to work together to solve problems. "I feel we are broadening horizons by helping kids understand differences," said one MC student. "They seem to really be grasping most of the material."
"Let's Talk it Out" was instituted two years ago, a partnership of the College, Manchester Community Schools and Education for Conflict Resolution, under the direction of Angie Briner, executive director. Dr. Lahman instituted the program in North Manchester with support as a Faculty Fellow of the Indiana Campus Compact, which promotes active involvement of Indiana's colleges and universities in their communities.
Those students, now in third grade, remember many of the skills they acquired in the program, said Dr. Lahman. "Sometimes my feelings get hurt. Because of your lessons, I learned to control my anger and feelings," reported one third-grader who participated in the first "Let's Talk it Out."
"I am proud of the fact that I am giving these kids an opportunity to think before they act, and hopefully keeping them from getting into trouble," said another Manchester College student. "If the kids can retain the information, it will really help them in life."
Teachers receive a binder of "Let's Talk it Out" lesson plans and many continue to use conflict resolution techniques taught by the college students. Manchester College students will return to elementary schools again this fall to teach a new batch of first-, second- and third-graders tolerance and acceptance of each other and other cultures, said Dr. Lahman.
Manchester is a Church of the Brethren college offering 45 areas of study to 1,075 students from 23 states and 30 countries. The college's and the church's heritage is steeped in a concern for peace and justice. For more about the college, please visit www.manchester.edu