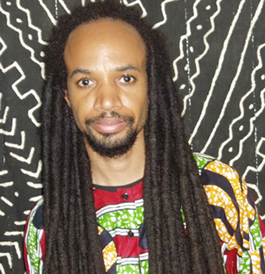 W.E.B. Du Bois scholar Reiland Rabaka
headlines annual January MLK events
Fiery activist, compassionate teacher, black historian Reiland Rabaka will lead Manchester College's annual commemoration of the life of Martin Luther King Jr.
The public is invited to "A Drum Major for Justice: Martin Luther King Jr.'s Message and Its Special Meaning" at 7 p.m. on Friday, Jan. 18 in the College Union conference rooms.
A service of remembrance and celebration of the civil rights leader will follow the speech, with Union Baptist Church Mass Choir of Fort Wayne. A reception and informal conversation will follow; reservations are not necessary for the free program.
Taking his inspiration especially from Martin Luther King and NAACP founder W.E.B. DuBois, Rabaka lectures on Africana philosophy, liberation theology and feminism. An associate professor of Africana studies at the University of Colorado, Boulder, and an affiliate professor of women and gender studies, he is author of W.E.B. Du Bois and the Problems of the Twenty-First Century.
While on campus, Rabaka also will teach a class and discuss the connection between black history and hip-hop. Both sessions are open to the public, although space is limited for these student-focused events.
At 9 a.m. Jan. 18, Rabaka will lecture on "African American Radical Politics and Social Movements," in the Lahman Room of the College Union. At 7 p.m. on Jan. 17, during a student poetry reading, Rabaka will present "Hip-Hop vs. Hip-Pop," in the Oakwood Hall great room.
Martin Luther King holds a special place in the heart of Manchester College: He delivered his final college address before his death on the North Manchester campus, on Feb. 1, 1968.
Manchester College will commemorate the 40th anniversary of King's campus address at 10 a.m. on Friday, Feb. 1 in Cordier Auditorium. The free 50-minute program includes video clips, student readings from the speech, remembrances and music.