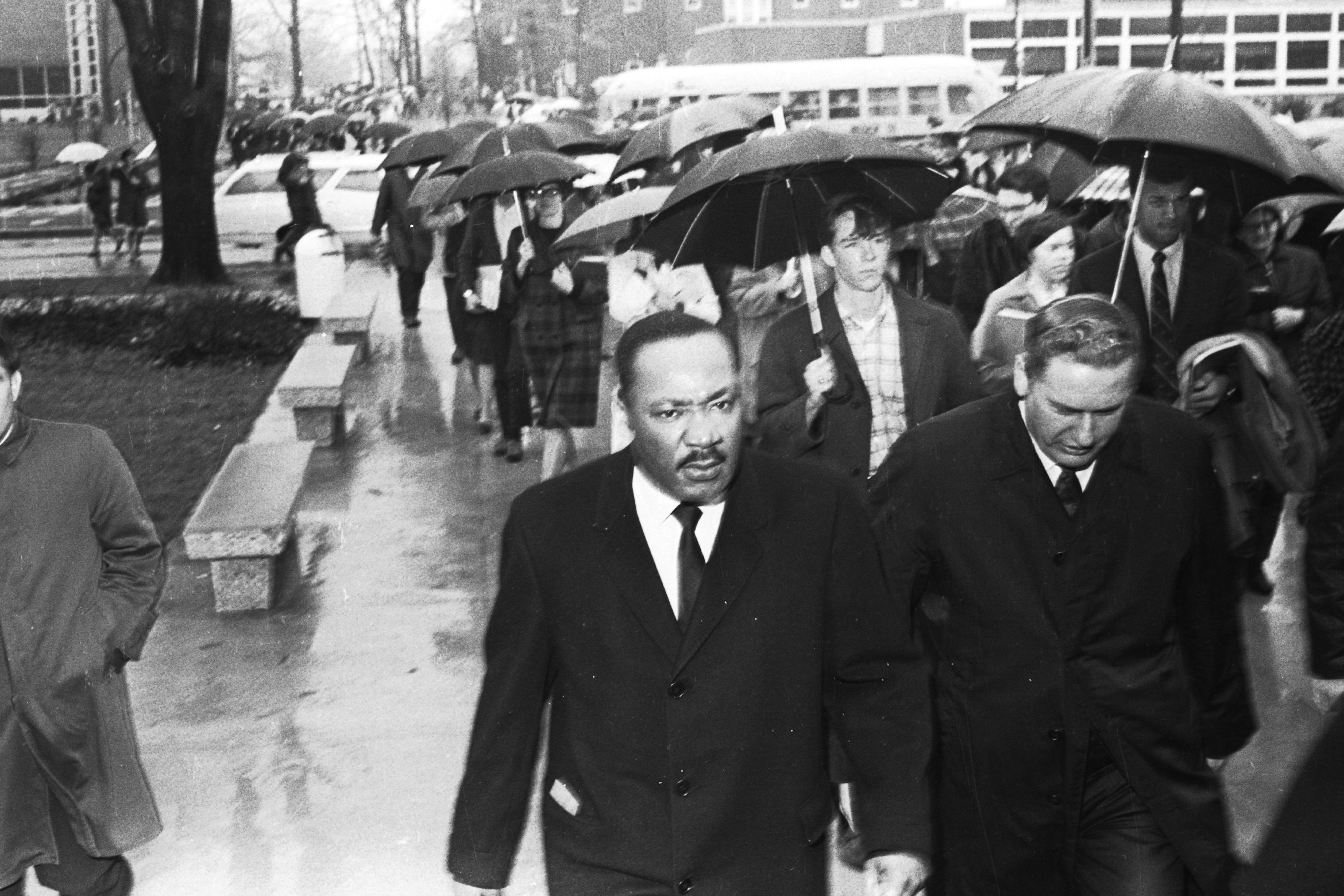 MC President A. Blair Helman escorts Dr. Martin Luther King Jr. across campus following the civil rights leader's address here on Feb. 1, 1968.
Manchester's MLK service
to unite community Jan. 17 with inspiration, music and dance
Manchester College will bring together Manchester High School, the Voices of Unity choir and Three Rivers Jenbé Ensemble of Fort Wayne on Jan. 17 to celebrate the life of Dr. Martin Luther King Jr. and rededicate the audience to the dream.
Dr. King gave his final campus speech at Manchester College – two months before he was assassinated April 4, 1968. The national commemoration day is the third Monday in January, marking the civil rights leader's Jan. 15, 1929 birthday.
Manchester College's 7th Annual Martin Luther King Jr. Service is expected to attract an audience of 500. It will begin at 7 p.m. To ignite campus participants for the evening ahead, a candlelight walk will form at 6:30 p.m. at the MC Administration Building for a march several blocks west to the Performing Arts Center of Manchester High School. The community is invited to join students in the candlelight demonstration of remembrance and rededication. Admission to the program is free, with a free-will offering at the conclusion for the Manchester College Intercultural Center.
The Monday, Jan. 17 gathering will feature the Rev. Mike Latham, NAACP Fort Wayne president and pastor of Renaissance Baptist Church in Fort Wayne. Rev. Latham will deliver an address on "Leadership is Essential."
The program includes the West Afrika drumming and dance of Three Rivers Jenbé of Fort Wayne, and the 50-member Voices of Unity Youth Choir of Fort Wayne, directed by the Rev. Marshall White.
Other speakers include the Rev. Ralph Kirkpatrick of Zion Evangelical Lutheran Church of North Manchester; Manchester College President Jo Young Switzer; President On Leave Parker G. Marden; Peter N. Gitau, MC director of multicultural affairs; Campus Pastor Jim Chinworth; MC Vice President of Student Development Beth Sweitzer-Riley; and MC students.
Three Rivers Jenbé Ensemble is supported by the Foellinger Foundation, Paul Clark Foundation, and John S. and James L. Knight Foundation.
Manchester is a Church of the Brethren college with 1,075 students from 30 countries and 23 states. For more about the college, visit www.manchester.edu. For more about Dr. Martin Luther King Jr., visit The King Center at thekingcenter.com