Celebrate the Season! With the MSO
at MC on Sunday, Dec. 4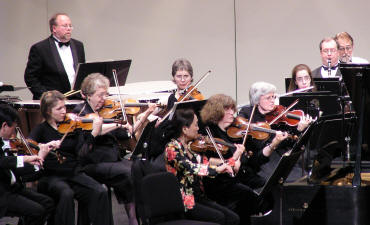 The Manchester Symphony Orchestra will tune to the sounds of winter for its Sunday, Dec. 4, concert, "Celebrate the Season! With the MSO." And, for a special treat, the Manchester Symphony Society has invited a Chicago jazz ensemble to the stage for a fun interpretation of a holiday classic, The Nutcracker Suite No. 1.
The performances begin at 3 p.m. Dec. 4 in Cordier Auditorium on the Manchester College campus. Tickets are $5; reservations are not necessary.
The concert is all about the holiday season. "The audience will hear musical depictions of teeth chattering and wind blowing," promises orchestra Director Suzanne Gindin.
The first section of the concert highlights violinist Jessie Bennett of Goshen, who will solo with the 45-member orchestra from Wabash County and Manchester College. Bennett, a violin instructor at Goshen College, won the Fort Wayne Young Artists Competition when she was in high school. Next comes the vocals of guest soprano Tammie Huntington, a doctoral student in voice at Ball State University and member of the Grace College faculty.
After intermission, the concert will jazz up with a blend of Pyotr Tchaikovsky and Duke Ellington. The audience will hear each movement of The Nutcracker Suite No. 1 ballet twice: once by the symphony and once by a small jazz band from Chicago assembled especially for the concert.
"I saw the Chicago Symphony do this several years ago ... it really highlights the genius of Ellington and how he heard the music," Gindin said
The MSO began its season series Oct. 30 with "The Nature of Music," and will present a "Spring Fling" of Italian music on April 30, 2006, in Honeywell Center, Wabash. In between, the MSO will highlight area high school talent with "Casey at the Bat," on March 5 in Cordier Auditorium, Manchester College.
For more information about the MSO and the Manchester Symphony Society, including membership opportunities, visit http://mso.manchester.edu