Manchester Symphony Orchestra
kicks off 68th season
with Halloween treat
Energized by one of the most successful seasons ever, the Manchester Symphony Society and the Manchester Symphony Orchestra now eagerly anticipate their 68th season, "Meet the MSO."
The 2006-07 season debuts Sunday, Oct. 29 with Halloween tricks and treats of Mysterious Melodies and Haunting Harmonies, conducted by Suzanne Gindin. Principal bassoonist Erich Zummack will be highlighted in a rarely performed concerto by Ray Luke. The program begins at 3 p.m. in Cordier Auditorium on the Manchester College campus.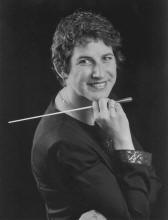 The new season includes a Holiday Pops family concert on Dec. 3 featuring principal cellist Brook Bennett, and a chamber music collaboration with dancers on March 4. The MSO will celebrate the Midwest American spirit on May 5 with harpist Megan Stout and guest soprano Alison Buchanan of England, who recently had her Carnegie Hall debut and has starred opposite Placido Domingo. All four Sunday concerts are in Cordier, at 3 p.m.
Last season, the second under the baton of Suzanne Gindin, individual memberships and musician participation increased 30 percent and collaboration with Honeywell Center featured internationally acclaimed pianist Simon Mulligan. All resulted in record income and positive financial status, rare for orchestras around the country, said Mark Huntington, interim president. The Society has 220 individual members, and 20 corporate members.
Maestro Gindin is excited about the musical offerings this year. "With all the wonderful music available for symphony orchestra, I feel like a kid in a candy shop," said Gindin, assistant professor of music at Manchester College. "I am honored to conduct this talented group and welcome the opportunity to introduce as many of them as possible as we 'Meet the MSO.' Even those who have never experienced a symphony concert before will be moved by the energy of a live performance and the power of symphonic music."
Ticket pricing has changed. Subscriptions ($25) for the four-concert season are available until the first concert. Tickets for individual concerts are $7.50. (Persons 65 and over and students with I.D. are not charged.) A brochure is being distributed throughout Wabash County. For more information, visit mso.manchester.edu. Contact the MSO at mso@manchester.edu or Manchester Symphony Society, P.O. Box 113, North Manchester, IN, 46962.
The 50-member MSO welcomes qualified musicians of any age to audition, with a particular ongoing need for string players. Contact Suzanne Gindin at 260-982-5331 or sbgindin@manchester.edu for details. The Manchester Symphony Orchestra has been in continuous operation since 1939, uniting student, community and professional musicians.