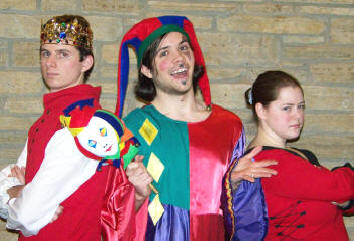 Nicholas Kenny as King, David Moan as Jester, Katherine Allen as Queen
Forsooth! 'Tis time for song, merriment, good food … and Manchester's madrigals!
Perchance a bit of wassail and a robust song or three or four? And a lovely bread pudding to top off a merry evening with your sweet someone? Then you'll want to join Manchester College's premier choir as it honors St. Valentine's Day with a madrigal dinner and comedy masque on Friday and Saturday, Feb. 9-10. Love is the theme of this pun-filled royal musical titled Noah and Joan of Ark.
'Tis no jest that tickets sell swiftly for this ever-popular program featuring members of the A Cappella Choir. Reservations are necessary, at $18 each for dinner and program by calling 260-982-5296. Ticket sales support the choir's spring residency and performance at Carnegie Hall, and particularly, a handful of talented singers with substantial financial challenges in making the trip to New York City, said Musical Director Debra Lynn, associate professor of music.
To accommodate the full royal court and those supping, the madrigal dinner has a new venue: Manchester Church of The Brethren, 1306 North Beckley. A 5 percent discount is offered for groups of six. Seating is at 5:45 both nights, in time for The Royal Processional at 6 p.m. The menu features chicken cordon bleu, wassail punch, peas, rice pilaf and bread pudding, catered by Chartwells, the College food service.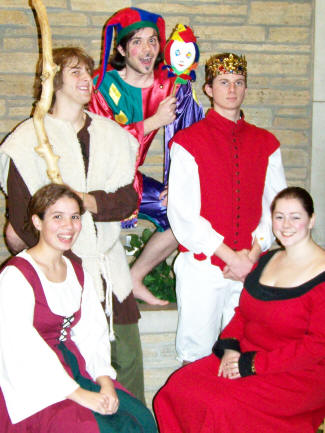 While the royal court will participate, this is not necessarily a formal affair: Dress fancy, dress comfy, dress for the moment, dress for the Renaissance. "The show is an interactive comedy, and is very silly, chock-full of animal puns and a lot of nonsense," said Lynn, who also warbled something about merry shouting and flying furry stuffed animals.
Sharing the performance leadership is sophomore David Moan of Goshen as stage director and as Royal Jester. Jacob Wenger is Noah and Casey Lambert is Joan of Ark.
Other performers: Leslie Butterbaugh, Zachary Blatz and Jeff Combs of Wabash; Brittany Cook of Etna Green; Michael Spaulding of North Vernon; Nicholas Kenny of Fort Wayne; Katherine Allen of Woodland, Mich.; Andrew Suhre of Michigantown; Kacie Gauby; Jackie Dobbert of Greentown; Ayana Brown of Lafayette; Tiffany Berkebile of Walkerton; Nicole Anderson of Frewsburg, N.Y.; Joel Waggy of Goshen; Corinna Miner of Elgin, Ill.; Erin Lynn; Audrey Lucker and Amanda Foust of North Manchester; Katherine McCann of Homewood, Ill.; Danielle Moeller of New Haven and Olesya Savinkova of Uzbekistan. Joshua Faudree of Fishers will provide the royal sound effects.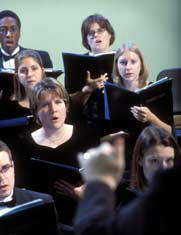 Learn more about
From left: Casey Lambert as Joan of Ark, Jacob Wenger as Noah, David Moan as the Jester, Nicholas Kenny as King and Katherine Allen as Queen