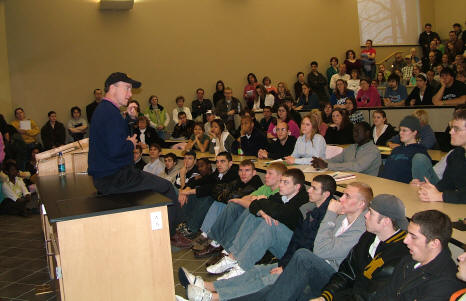 What's on the minds
of Manchester College students?
Now, Gov. Mitch Daniels knows!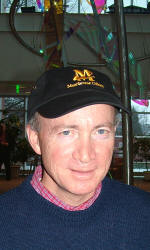 All-day kindergarten, privatizing services, the death penalty, school spending, fitness and academic achievement, Hoosier Hope scholarships … Manchester College students peppered Gov. Mitch Daniels with questions on Tuesday, Jan. 23. They had him all to themselves as they overflowed Flory Auditorium for a casual, good-natured, yet serious Q & A with the leader of Indiana government.
The visit with students – and 15 minutes with President Jo Young Switzer – were totally focused on students. Daniels arrived in his signature RV One, donned an MC cap and perched atop the lab table in the lecture hall.
Student teacher Rachelle Steggerda of Valparaiso introduced a governor obviously pleased by her focus on his state education agenda.
When asked by sophomore Ben Helm of Elwood how Indiana can get talented young scientists to go into teaching, the governor replied: "We have an extraordinary number of schools teaching future teachers," but too much time is spent on teaching techniques and not enough is spent studying the actual subjects, such as science or math, he said. Indiana needs to make it easier for talented scientists, for example, to teach in the high school classroom, he told the crowd.
The governor said he wants education to get the priority benefit from his administration's success in achieving a balanced budget within only one year. "If we are very careful, we can fund this," he said, adding that school corporations should worry less about consolidating schools and more about consolidating administration. "I'm in favor of smaller schools," he said several times. Several questions were about full-day kindergarten. The state Legislature is considering phasing in full-day kindergarten, in schools with the state's neediest students.
Students also questioned Daniels about his proposed Hoosier Hope Scholarships. "We want to address the problem of the brain drain in Indiana," he said. "I have met hundreds of young people with the same story: They tell me, "I don't see the jobs (in Indiana) that match my aspirations." (President Switzer earlier told the governor that 86 percent of Manchester grads do indeed pursue their careers in Indiana.)
The Hoosier Hope Scholarships would provide $5,000 annually or $20,000 total for qualified "high-potential" college students who agree to work in their fields in Indiana for at least three years after graduation, Daniels said.
During a brief meeting in her office, President Switzer thanked the governor for his work to strengthen education in Indiana. Daniels returned the praise: "Everybody knows about the value of a Manchester College education."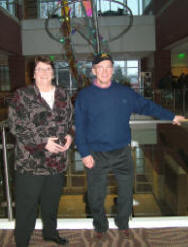 The governor was extremely responsive to Switzer's reminder that wired independent colleges like Manchester do not have access to the I-Light 2 digital fiber optic network that currently serves public institutions in downstate Indiana, such as Indiana and Purdue universities and Ball State University.
"We want all colleges and universities in the state hooked up," Daniels replied. "I am very sympathetic to this. Our view of I-Light 2 is that it is primarily about educational institutions like Manchester."
Enthused about the "great questions" he faced at Manchester, Daniels said he would love to return to campus "to continue the discussion."