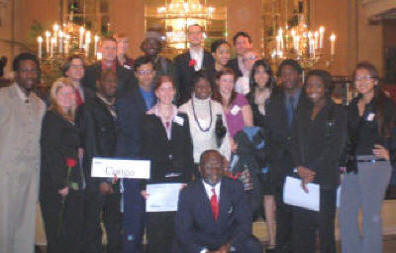 19 put diplomacy skills to work
at National Model United Nations
"It was like being in 50 countries at once," says faculty advisor Dr. Benson C. Onyeji of Manchester College's participation in the Harvard National Model United Nations. The international conference drew more than 2,650 students, faculty and media to Boston Feb. 15-18.
Nineteen Manchester students represented the Congo or Sudan as delegates to committees that wrote and passed resolutions on issues ranging from Iran's nuclear ambitions to the war in Iraq, human trafficking and the spread of infectious diseases.
Students gained valuable skills in diplomacy, communication and conflict resolution, said Onyeji, associate professor of political science.
Representing the Congo delegation and their committees:
Farida Adam, junior political science major, North Manchester, Historical General Assembly
Tiffany Berkebile, first-year communication studies major, Walkerton, Ind., Economic and Financial Committee
Tihitina Dagnew, first-year political science major, Ethiopia, Legal Committee
Tapash Deb, senior chemistry major, Bangladesh, Disarmament and Security Committee
Holly DeNeve, junior political science major, New Carlisle, Ind., Special Political and Decolonization Committee
Ivan Mwesigwa, sophomore biology-chemistry major, Watertown, Mass., Disarmament and Security Committee
Nkechi Onyeji, junior political science major, Fort Wayne, Security Council
Tolani Rasaki, junior political science major, Indianapolis, Social Humanitarian and Cultural Committee
Josh Sollenberger, junior political science major, Annville, Penn., Security Council
Janaki Soman, sophomore economics major, Singapore, Economic and Financial Committee
Representing the Sudan delegation:
Thomas Bimba, sophomore peace studies major, Nigeria, Legal Committee
Chris Kayondo, sophomore general business major, Uganda, Economic and Financial Committee
Carlos Font Marcet of Spain, Organization of the Islamic Conference
Adrienne Numbers, first-year exercise science major, Woodburn, Ind., Historical General Assembly
C.J. Onyeji of Fort Wayne, Disarmament and Security Committee
Anna Simons, junior peace studies major, Granger, Ind., Social Humanitarian and Cultural
Adam Stokes, junior peace studies major, Greenwood, Ind., Executive Committee of U.N. High Commissioner for Refugees
Camilo Velasquez, senior political science major, Nicaragua, Special Political and Decolonization Committee
Manchester, with students from 26 countries and 27 states, is the only college in the United States to hold permanent observer status with the United Nations, as a Non-Governmental Organization (NGO), and with permission, opportunity to debate issues on the floor of the U.N. General Assembly. For more about the College and its Department of Political Science, visit www.manchester.edu