New Gallery G hours!
8 a.m. to 5 p.m. Monday-Friday
Noon to 3 p.m. Sunday
(when classes are in session)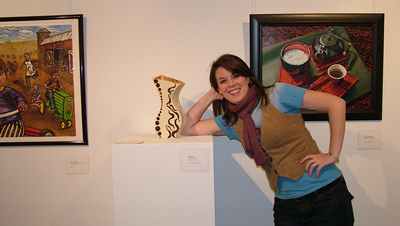 MC senior Ellie Davis poses with her pottery at the show.
Manchester's gallery hosts art works of northeast Indiana students
Thought-provoking, colorful, amazing, intricate, inspired … visitors to Gallery G will find it all in the Northeast Indiana College Student Art Exhibit through March 13.
From a dramatic monotype print by an IPFW student, to a multi-dimensional collage by a Manchester College senior, Gallery G displays 34 juried works of 25 students from six colleges and universities.
Seven of the artworks belong to Manchester College students. Other schools represented in the art display are Grace College, Huntington University, Ivy Tech Community College, University of St. Francis and Indiana University Purdue University-Fort Wayne.
Winners announced Feb. 23 were the selections of Charles A. Shepard III, executive director of the Fort Wayne Museum of Art. About 60 artists and guests were present for the reception.
First: Everyday Heirloom, oil on canvas by Ryan Pickart of Grace College
Second: Portrait of an Artist, colored pencil by Maria Coward of IPFW
Third: Tomb of Cyrus, digital art by Alex DeVinney-Stoner of IPFW
Honorable Mention: Tony Soprano, pyrography on wood by Jeremy Arroyo of Ivy Tech; Self Portrait 1, oil on canvas by Ryan Pickart; Place Setting, wheel-thrown stoneware by Trista Watson of Huntington University
The 2008 consortium exhibition provides an opportunity for college students from regional institutions to participate in a juried art competition, said Ejenobo Oke, Manchester College instructor of art. The consortium seeks to:
expose students to the process of juried art exhibitions
showcase student talent
explore artistic possibilities
build student resumes
increase networking opportunities within the region
The Gallery G exhibit on the second floor of the Manchester College Union is open to the public 8 a.m. to 5 p.m. weekdays and noon to 3 p.m. Sunday. (The College Union is open to the public for Sunday brunch from 11 a.m. to 1 p.m.)
For more information about art at Manchester College or Gallery G, call 260-982-5327 or visit www.manchester.edu.