Natya Dance Theatre brings classical dance
from India to Manchester on Sept. 17
NORTH MANCHESTER, Ind. (Sept. 2, 2004) – The Natya Dance Theatre will perform its award-winning Ahimsa – Toward Nonviolence in Manchester College's first public program of the new school year, on Friday, Sept. 17. The Chicago-based troupe performs works based on Bharata Natyam, a leading classical dance form of India.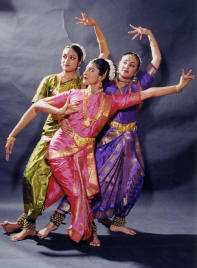 The Sept. 17 performance begins at 7 p.m. in Cordier Auditorium on the Manchester College campus. Tickets are $7 for adults; $5 for seniors and students 18 and under. For reservations, call 260-982-5551. Tickets also are available at the door.
Hailed as a "triumph" and "superb" by the "Chicago Reader," Ahimsa focuses on humankind's struggle against violence while striving toward peace. Stories are taken from Hindu mythology illustrating various forms of violence – against women, children, the poor and the downtrodden. A live orchestra will accompany the performance. Natya Dance Theatre, which has an Emmy, received the Chicago Dance Award in 2003 for Ahimsa.
Natya Dance Theatre has toured internationally, performing at the Kennedy Center for the Performing Arts, the Avignon Festival in Paris, the Madras Dance and Music Festival and the Smithsonian Institution.
Natya Dance artistic director Hema Rajagopalan and assistant artistic director and principal dancer Krithika Rajagopalan choreographed Ahimsa. Hema Rajagopalan has received seven dance choreography fellowships from the National Endowment for the Arts and has produced more than 100 dance dramas. Krithika Rajagopalan dances, choreographs, teaches, conducts workshops and master classes, and develops outreach performances and programs for schools and universities. She has received the Jerome Foundation Grant Award and the Master Teacher Award from the Illinois Arts Council.
Manchester is a Church of the Brethren college with about 1,100 students. For more information about the college, visit www.manchester.edu