Next MC pastor brings diverse
theological background to campus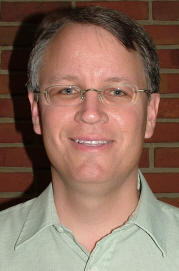 Philosophical theologian Dr. Steven Crain will be the next campus pastor of Manchester College.
Dr. Crain, who is seeking ordination in the Northern Indiana District of the Church of the Brethren, will join the College on July 1. He is assistant professor of philosophy and theology at University of Saint Francis in Fort Wayne and has considerable faculty experience at other faith-based universities.
"With our steady commitment to graduating students who have both ability and conviction, we are pleased that Steve Crain will bring us tremendous abilities to provide support and service to students from a range of faith traditions," said College President Jo Young Switzer.
Manchester is a Church of the Brethren college. Students of at least 30 religious affiliations attend the independent residential College.
Dr. Crain also has taught theology and philosophy at University of Notre Dame, St. Mary's College, Valparaiso University, IPFW and Washington University in St. Louis. He also has taught math, science and humanities at Canterbury High School in Fort Wayne. He has a bachelor's degree in physics from Stanford University and a master's from Fuller Theological Seminary. He holds a master's and Ph.D. in theology, and a master's in history and philosophy of science, from Notre Dame, where he specialized in religion and science issues.
Dr. Crain also trained for the ministry in the Episcopal Church. "My faith was formed in Protestant Evangelicalism, Anglo-Catholicism, and in the physics lab," he said. "I have found a home in the Church of the Brethren."
Associate Chaplain Sonia Smith will serve as interim pastor beginning Jan. 1. Pastor Jim Chinworth begins in January as associate pastor for youth ministry and congregational life of the Manchester Church of the Brethren.