Tell me more about Manchester's Music Department!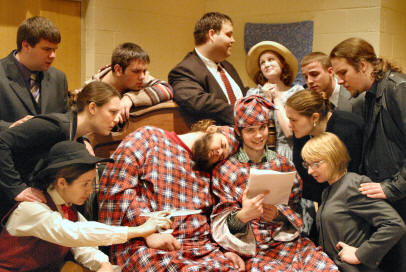 It's true: Opera is a hoot
at Manchester College!
Three operatic comedies
are in the wings for Feb. 17-19
Judging from the laughter rising from the rehearsal stage, Manchester College's opera production the weekend of Feb. 17-19 promises to be a real audience pleaser.
The 17-member cast will offer tastes of three operas – all in English, all comedies – including the hilarious brief opera Gianni Schicchi by Puccini. Also on the program are scenes from Mozart's Don Giovanni and Gilbert and Sullivan's Pirates of Penzance.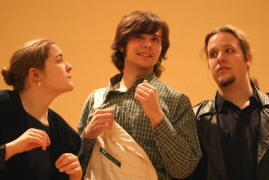 The curtain rises on the Friday, Feb. 17 and Saturday, Feb. 18 performances at 7:30 p.m. The Sunday, Feb. 19 matinee begins at 3 p.m. Reservations are necessary because seating in Wine Recital Hall is limited; call 260-982-5296. Tickets are $5.
"Come ready to laugh!" says Debra Lynn, associate professor of music and choir director. "One of the great things about opera at MC is the sincere love these students share for singing and acting. Many are not music majors and most have little, if any, operatic experience – and yet they are able to learn this extremely difficult music and present this exciting production!"
About 100 area high school music students will form the audience for a dress rehearsal, Lynn said.
Puccini's opera is about relatives' reaction to the death of a wealthy landlord who supposedly left his estate to the local monastery. The frantic search for the will, a marriage engagement dependent upon its contents and a sly farmer lead to considerable melodrama.
The cast for Don Giovanni includes sophomore Andrew Suhre of Michigantown as Don Giovanni; senior Myra Martin-Adkins of Washington, D.C., as Zerlina; senior Torrance Dean of Camby as Masetto; and sophomore Joel Waggy of Goshen as Leporello.
The cast for Pirates of Penzance includes senior Rachael Heath of Fort Wayne as Mabel; Myra Martin-Adkins as Edith; junior Robbie Bucher of North Manchester as Frederic; and first-year student Jeff Combs of Wabash as Major General. The daughters are first-year student Leslie Butterbaugh of Wabash; junior Allison Hoover of Flossmore, Ill.; junior Tabitha Hufford of Coatesville; sophomore Breana Lindsay of Freemont, Mich.; junior Audrey Wiedman Lucker of Huntington and first-year student Tedra Tague of New Market. The Policemen are Torrance Dean, senior James Hutchings of Wabash; sophomore Jon Largent of Muncie; first-year student David Moan of Goshen; junior Mike Spaulding of North Vernon; Andrew Suhre and Joel Waggy.
In the cast for Gianni Schicchi: David Moan as scheming farmer Gianni Schicchi, Audrey Lucker as his daughter, Allison Hoover as old Zita, James Hutchings as Rinuccio, Robbie Bucher as Gherardo, Rachael Heath as wife Nella, Myra Martin-Adkins as young Gherardino, Jeff Combs as cousin Betto, Andrew Suhre as Simone, Joel Waggy as Marco, Leslie Butterbaugh as Ciesca, Mike Spaulding as Dr. Spinellocchio, Torrance Dean as lawyer Amantio di Nicolao, Tabitha Hufford as undertaker Pinellino, Tedra Tague as tailor Guccio, and sophomore Jon Largent of Muncie as the deceased wealthy landlord Buoso Donati.