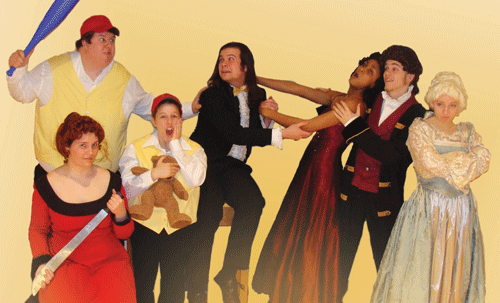 Manchester College presents
three operas amid "Musical Mayhem!"
Manchester College presents opera as "Musical Mayhem" this weekend, with nods to Mozart and Strauss, and a fun one-act production for children, The Boy Who Grew Too Fast.
The curtain rises at 7 p.m. on Friday and Saturday, Feb. 20-21 and at 3 p.m. on Sunday, Feb. 22, in Wine Recital Hall. Admission is $5, children under 12 free; reservations suggested: 260-982-5426.
The program, which concludes the 2009 Opera Workshop, begins with the relatively new children's opera by Gian Carlo Menotti. "This short opera packs a big punch in the life-lesson department, with wonderful teaching moments about self-esteem, non-conformity, courtesy, compassion, acceptance, generosity and bravery," said director and conductor, Debra Lynn, chair of the Music Department.
The Mozart offering this year includes excerpts from Act II of Don Giovanni, which shows off the College's baritones. "Ensemble singing interspersed with fast-paced dialogue that is completely sung makes this a particularly challenging part of the program," Lynn added.
Last are excerpts from Act II and Act III of Strauss' Die Fledermaus, with its nearly continuous stream of "delightfully bubbling" soprano, said Lynn.
The College's Opera Workshop traditionally casts every person who auditions, making it a true learning experience, and "giving everyone opportunity to learn about their own abilities and how to appreciate the strengths of others," she said. The cast includes 33 singers and three pianists.
For more about music at Manchester College, visit www.manchester.edu
February 2009