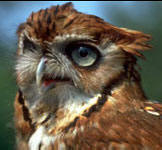 What's that? Whoooo knows?
Prowl the Koinonia
trails for owls Jan. 29
What have yellow eyes that don't move and are "getting all twitterpated" over their life mates right about now?
Find out at the Owl Prowl on Monday, Jan. 29 at Koinonia Environmental and Retreat Center, just south of Pierceton. The program begins at 6:30 p.m.
The free Manchester College program begins with discussion about owls, of course, and an up-close encounter with a live raptor. Then it is off to the Koinonia trails as Dr. Jerry Sweeten, director of environmental studies, attempts to "call in" a screech or barred owl or two or three.
Curiosity and warm clothes are a must, binoculars may be helpful in the early evening. Who knows what owl prowlers might encounter in the Koinonia woods at night?
Did you know most owls can twist their heads almost three-quarters around? Do you know why they hunt at night?
For more information about the Owl Prowl or other events at Koinonia Environmental and Retreat Center, contact Rainn MacPhail, director and biology instructor, at 260-982-5010 or rlmacphail@manchester.edu.