PERC athletics and sport sciences
facility stretches out with more
locker rooms and classrooms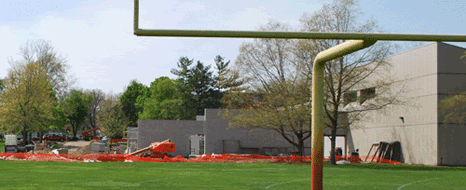 Manchester College's student athletes and sports science majors soon will have room to stretch their legs and arms at last: Construction is under way on a $1.5 million addition of locker rooms, classrooms and athletic training facilities.

The new 8,730-square-foot wing to the southwest side of the Physical Education and Recreation Building is desperately needed. As many as 114 sweating football players crowd into the "home" locker room, where they line up for one of only eight showers. (Half the gridiron Spartans tiredly trudge to the opposite end of campus to their residence hall showers or add their "fragrance" to the dinner line.)

Enrollment College-wide continues to set records, as do team rosters and interest in the exercise and sports sciences academic programs. "We've outgrown the PERC," says Athletic Director Rick Espeset. Potential student-athletes visiting campus are quick to note the cramped conditions, he notes.

When those football players return to campus next August, they'll have ample hygiene options, as will their opposing teams. So will other Spartan teams. In addition, Manchester's burgeoning athletic training and other Exercise and Sport Science programs will stretch into two new critically-needed classrooms.

"This new wing will strengthen Manchester's academic and athletic programs, and promote health and fitness across campus and the community," says Espeset. Michael Kinder & Sons of Fort Wayne is the general contractor.
Meanwhile, fund-raising continues for the $1.5 million addition to the PERC. The architect of the structure, originally constructed in 1982 and expanded in 1998 to 68,550 square feet, is MSKTD and Associates Inc. of Fort Wayne.

The PERC is the first major construction project on the North Manchester campus since dedication of the adjacent College Union in fall 2007. To learn more about supporting construction of the PERC addition, contact the Office of College Advancement, 888-257-2586 or giving@manchester.edu.
December 2009