Community conflict-resolution
leader takes helm
at Indianapolis Peace House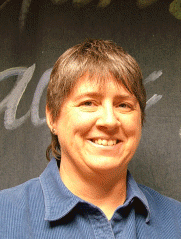 She's energized a large and successful team of community and college volunteers to convince 1,200 inner-city youngsters how to solve their problems without violence. She's investigated crimes against South African children. She's a mentor, a leader, an attorney, a peacemaker … and the new executive director of Indianapolis Peace House, an undergraduate residency in peace studies.
Kim Overdyck of the University of Notre Dame is the choice of the Plowshares consortium of Indiana's three historic peace colleges – Manchester, Earlham and Goshen colleges, said board Chair Jo Young Switzer, president of Manchester College. She will take her office in the historic "Old Centrum" in downtown Indianapolis on Jan. 2.
Overdyck coordinates a project for the University of Notre Dame that serves more than 1,200 inner-city children – partnering more than 120 college students and community volunteers to break the cycle of violence and promote non-violent conflict resolution in South Bend schools. During her four years with the Take Ten program, the volunteer team has quadrupled and youth participation has increased 15-fold.
Her mentoring, programming and leadership experience are a perfect fit for Peace House, where undergraduate students learn from community organizers, teachers, political leaders, artists, conflict-transformation professionals and others engaged in community building and peacemaking.
"I am excited to be part of a program that will provide students with an inner-city experience," said Overdyck. "They will take what they learn in Indianapolis back to their colleges and communities, where they will continue to make a difference."
Overdyck's professional journey is distinctive. For 13 years, she investigated crimes against children for the South African Police Service. She holds a bachelor's degree in political science and private and Roman Dutch law from University of Cape Town and a master's degree in international peace studies with a concentration in international human rights law from Notre Dame.
"With a director whose own life journey has been so purposeful, Peace House students will have extraordinary learning opportunities," said Switzer. "Her work with college students has been so effective that we are eager for her involvement with recruitment for college and university students at Peace House."
Undergraduates studying any major from any U.S. college or university are invited to apply for a semester or nine-week summer session at Indianapolis Peace House. Students complete individual internships in inner-city Indianapolis, study urban peace and social justice, education and structural change, and live in a downtown residence. Peace House students have contributed more than 14,000 hours of community service to Indianapolis.
Indianapolis Peace House, at 1421 Central Ave., is in the fourth year of a five-year of a Plowshares program funded by Lilly Endowment Inc. Overdyck also will lead development of a comprehensive plan for moving Peace house toward sustainable independence after the Endowment grant expires in June 2008.
For more about Indianapolis Peace House, call 317-631-7322 or visit www.plowsharesproject.org/php/peacehouse.