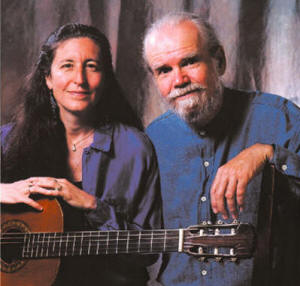 Peace singers King and Brandow to perform
Friday, March 30 at Manchester College
Folk musicians Charlie King and Karen Brandow will perform Friday, March 30 in Petersime Chapel of Manchester College. The free concert begins at 7 p.m.
"We try to cover a broad emotional landscape in our concerts," said King, whose songs have been recorded by Pete Seeger, Holly Near, Arlo Guthrie, Chad Mitchell and many other artists. "What we most value in a song is the way it helps us see an old reality in a totally new light." In addition to their full concert tour schedule, they sing in support of groups seeking peace, human rights, environmental sanity and alternatives to violence.
Karen Brandow began performing with King since 1998. While doing human rights work in Guatemala from 1986 to 1994, she studied voice, performance and classical guitar. She is a founding member of the a cappella group, the Non-Traditional Imports.
Their CDs include On the Journey, Sparks & Tears and Puppet Town.
The concert is funded by Plowshares, a peace studies consortium of Manchester, Earlham and Goshen colleges.