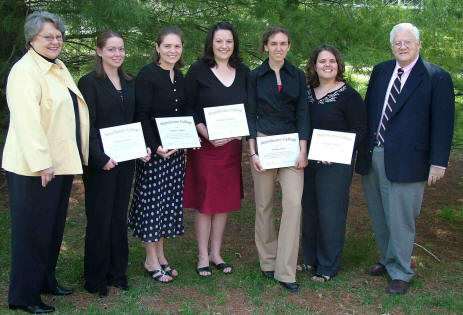 From left: Ann Marden, Patricia Gentry, Tiffany Maple, Wendy Matheny, Sarah Reed, Meagan Harlow and Parker Marden
MC honors Marden leadership,
five students for philanthropy
Manchester College has awarded13th President Parker G. Marden and College First Lady Ann Wagner Marden with its highest honor for philanthropy. The couple, who retire this summer after 11 years of service to the liberal arts college, joined five students in receiving Manchester's Certificate of Responsible Philanthropy on Monday, April 18.
In presenting the award to the Mardens, President Jo Young Switzer praised them for "creating an environment that nurtures a sense of self identity, a dedication to the service of others and an acceptance of the demands of responsible citizenship – and exemplifying those values in action."
Also honored at the annual Philanthropy Convocation were seniors Patricia A. Gentry of Swayzee, Ind. and Wendy J. Matheny of Peoria, Ill.; and juniors Meagan E. Harlow of Clayton, Ohio; Sarah A. Reed of Mishawaka, Ind., and Tiffany A. Maple of Greentown, Ind.
During the Marden years, Manchester College's campus has grown with a $17 million science center, library expansion and recital hall. The small, liberal arts college now is more diverse in student body, faculty and leadership. Ann Marden heightened awareness and raised funds for area shelters for abused women and children.
"With Ann, it has been my privilege to invest 11 years of my life in an institution that I like, and respect – both in mission and the way that this mission is met," Marden told the audience. "This is a remarkable academic institution because of the interests that come together so well – faculty, staff, students, and donors, alumni and friends."
All five students are active in many volunteer activities, but each focuses on favorite causes.
Gentry, majoring in business administration with a double minor in nonprofit management and German, is especially active in Habitat for Humanity fund-raising and traveling with the college chapter to build homes in other communities.
Maple, an elementary education major, has volunteered on a mission trip with other MC students at a Salvation Army and a half-way house for socially challenged men in Germany.
Harlow, Matheny and Reed have traveled to Togo and Benin in West Africa to work with ECHOPPE Inc., which works with women to break their cycle of poverty.
"Sarah and Wendy are amazing women who bring amazing amounts of energy and passion to the work we do with ECHOPPE," said Harlow, who is majoring in elementary education, with an endorsement in mild intervention. Matheny has a double major in political science and French; Reed's major is Spanish and music.
Service and responsible citizenship are in Manchester's mission as a Church of the Brethren college. Last school year, more than 700 students contributed more than 11,100 hours of service to their college and communities. Big recipients were the Indiana Reading Corps (more than 5,000 hours), campus orientation and Habitat for Humanity. For more about Manchester College, and its Office of Volunteer Services, visit www.manchester.edu