College class learns by giving,
with eye on $20,000 playground goal
for Manchester Elementary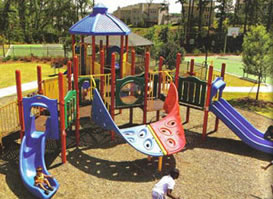 A class of 23 students in Non-Profit Management at Manchester College is on a $20,000 mission to help provide a new playground for Manchester Elementary School.

The goal is enormous for only a semester-long project, but the students have a strategy packed with presentations, community and College fundraisers and brazen determination.

Principal Bonnie Ingraham already has initiated fundraising to replace the wooden and somewhat rotten playground equipment. When purchased, it was the "latest" in playground structures, she noted. "But we've had 20 years of robust play on that playground. There are even better-quality materials now out there." Currently, some of the structures are cordoned off for safety. The new equipment Ingraham hopes to purchase is designed to develop motor skills as well as provide fun exercise.

Students in Professor Brad Pyrah's Non-Profit Management class are learning about not-for-profit organizations with Project Playground, complete with officers, a mission statement, marketing plan and web site.

"We chose to sponsor Manchester Elementary School to benefit a cause within the North Manchester community," said Project Playground Executive Director Stephanie L. Moore, a senior accounting major from Rochester, Ind. "Our mission centers on the children's social and educational development, and we hope to achieve this by working directly with them, as well as raising revenue to assist in the purchase of much-needed, new playground equipment."

The students' volunteerism is typical of Manchester College students, who annually contribute more than 19,000 hours to their communities, churches, College and other organizations. "Manchester College is well-known for its participation in not-for-profit ventures, and I am grateful for our opportunity as a class to contribute to the College's philanthropic aspirations," said Moore.

Project Playground fundraisers range from a chili dinner and faculty dodgeball to a silent auction for a gourmet Tuscan dinner, penny challenges … and outright donations.

On Nov. 13, Principal Ingraham hosted a benefit chili dinner to introduce Project Playground to parents and relatives of her students. On Nov. 14, Manchester College students and faculty will compete in a dodgeball benefit.

Make check donations payable to Manchester College, with Project Playground on the memo line, to:
Project Playground
Manchester College Business Office
604 E. College Ave.
North Manchester, IN 46962
To connect with the students to discuss their project and donations, email ProjectPlayground@manchester.edu or call the executive director at 574-835-4500.

Other fundraisers:

Tips,Profit Percentage from East of Chicago on Nov. 20. The downtown North Manchester restaurant will donate a percentage of its profit from the day, and Project Playground volunteers will serve, donating their hopefully substantial tips.

Silent Auction for Tuscan Dinner on Feb. 22. Bid on a five-course dinner prepared by College President Jo Young Switzer and Professor Dave Switzer, who both have attended cooking school in Tuscany, Italy. (Bids are per guest.)
Submit bids at DinnerWithPresident@manchester.edu

Parents' Night Out on Dec. 6. Student volunteers will spend the evening at Manchester Elementary School providing activities and games for the young students while their parents take the night off.

Penny Challenge at Manchester Elementary Nov. 10-21. Students in each class at Manchester Elementary will have opportunity to buy paper links for a chain to be displayed at the school.

Collection Jars at local businesses, providing additional opportunities for donations from the community.
Nov. 12, 2008