Author Marilyn Kallet to demonstrate power
of poetry to Manchester College, community
Poet and author of 14 books, Dr. Marilyn Kallet will give two public presentations while "in residence" Tuesday and Wednesday, Oct. 20-21 at Manchester College.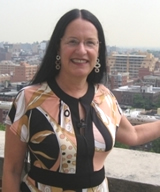 3:30 p.m. convocation in the upper College Union will focus on the healing power of poetry, and the author's recent Holocaust research in France and poetry on Jewish identity she presented in Krakow and Warsaw, Poland. The event is free.
The author also will do a reading and book signing at 6:30 p.m. Oct. 20 at North Manchester Public Library.
Remarks Kallet of her work:"Poetry is what I do. It enriches my life at every turn. It has helped to weave me into the landscape and daily life …"
The award-winning books include Packing Light; Circe, After Hours; The Big Game, a translation of poetry by Benjamin Peret; The Art of College Teaching: Twenty-eight Takes; and a children's book, Jack The Healing Cat. For 17 years, she directed the creative writing program at the University of Tennessee. Learn more about her at www.marilynkallet.com.
"A writer, performer and teacher, Kallet combines the talents and the arts that make humanity happen," said Beate C. Gilliar, chair of the Department of English, who notes that Oct. 20 also is National Day on Writing.
October 2009