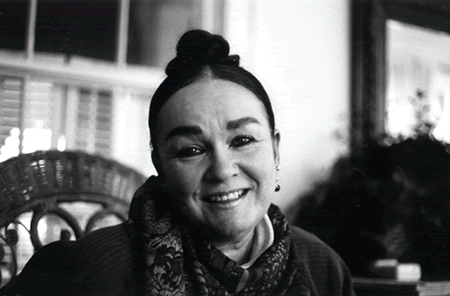 Children's author Patricia Polacco
addresses school kids, future teachers
on Nov. 5 at Manchester College
The public is invited to hear popular children's author and artist Patricia Polacco speak on "The Heroes of My Life" in a workshop for future teachers at Manchester College on Wednesday, Nov. 5.
The free session begins at 10:30 a.m. in the Lahman-Hoff conference rooms of the College Union. Polacco is the author of more than 30 children's books, including The Keeping Quilt and Rechenka's Eggs, winners of the International Reading Association Award. She also has received Parents' Choice honors for three books.
During her visit, Polacco will conduct workshops tailored for teachers, and address children from Warsaw and Manchester schools. Her one-day residency is sponsored by the Manchester College Department of Education and the MC chapter of the Indiana Reading Corps.
Warsaw third-graders in Lincoln Elementary School, and fifth- and sixth-graders in Laketon School, who get to hear Polacco will receive free copies of Mr. Lincoln's Way. The campus chapter of the Indiana Reading Corps also has purchased 2,000 of several of Polacco's books for distribution in area schools.
For more information, contact education instructor Stacy Stetzel in the Manchester College Department of Education office, 260-982-5421. For more about Patricia Polacco, visit www.patriciapolacco.com
During Polacco's visit, a Scholastic Book Fair for education majors and book drive will be hosted by the MC Student Education Association to benefit area children in need.
The book events are on-going all week in the Education Department offices on the first floor of Calvin Ulrey Hall on the west side of campus. During Polacco's visit Wednesday, the book event will move to the College Union in the morning, between programs.
Book fair/book drive schedule:
Monday, Nov. 3: 2-5 p.m.
Tuesday, Nov. 4: 9 a.m.-noon; 5-7 p.m.
Wednesday, Nov. 5: 8:30-1 p.m. (College Union); 5-7 p.m.
Thursday, Nov. 6: noon-3 p.m.
Friday, Nov. 7: 8-11 a.m.
Nov. 3, 2008