Monday, Feb. 18
10 a.m. convocation, Cordier
4 p.m. panel, College Union
Activist John Prendergast to lead
Manchester dialogue about genocide,
mass atrocities Feb. 18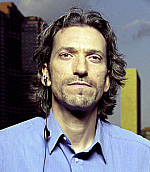 Human rights activist John Prendergast will spend Monday, Feb. 18 on the Manchester College campus to deliver a convocation address and participate in a panel discussion and dialogue about genocide and mass atrocities.
Prendergast has served as an adviser to the U.S. State Department, the White House and the National Security Council. He is co-founder of ENOUGH, a joint initiative of the International Crisis Group and the Center for American Progress seeking to build a permanent constituency to end genocide and crimes against humanity. ENOUGH currently is focused on conflict in Chad, eastern Congo, Sudan and northern Uganda, but speaks out on atrocities wherever they occur.
The public is invited to the 10 a.m. convocation Monday in Cordier Auditorium, as well as the 4 p.m. panel in the Lahman Room of the upper College Union. Both events are free; reservations are not necessary. Also, at 2 p.m., the award-winning HBO documentary about Dafur, Sand and Sorrow, will be shown in the Lahman/Speicher rooms of the College Union. Prendergast appears in the film narrated by actor George Clooney.
The convocation will focus on conditions in Darfur and Rwanda. In addition to Prendergast, the panel includes Sudanese refuge Felix Lohitai (an MC senior peace studies major), two Darfurian refugees and Holocaust scholar Glenn Sharfman, vice president and dean of academic affairs. They will discuss historical and contemporary instances of genocide, focusing on Darfur.
Prendergast is author of several books, including a New York Times best seller with Hotel Rwanda actor don Cheadle: Not on Our Watch: The Mission to End Genocide in Darfur and Beyond.
A Plowshares grant is underwriting Prendergast's visit. Plowshares, a consortium of Indiana's three historic peace colleges – Manchester, Goshen and Earlham colleges – is funded by Lilly Endowment Inc. For more about Manchester College, home of the world's oldest peace studies program, visit www.manchester.edu