Victoria Eastman, education instructor, and junior Jackie Gore work with a pre-schooler from the North Manchester community.
Manchester College named to President's Honor Roll for Community Service
Manchester College is on the President's Higher Education Community Service Honor Roll for exemplary service efforts and service to America's communities.

The Community Service Honor Roll is the highest federal recognition a school can achieve for its commitment to service learning and civic engagement. Honorees are chosen for the scope and innovation of service projects, percentage of student participation, incentives for service, and the extent of academic service-learning courses.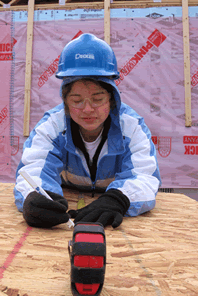 Service is in the Manchester College mission. Annually students contribute more than 19,500 hours of service to their communities and College. The campus chapter of the Indiana Reading Corps is the largest in the state, with Manchester students providing more than 5,000 hours of tutoring in area elementary schools. The College's Habitat for Humanity chapter will make its 23nd trip this spring.

Every academic department incorporates service learning, from the Medical Practicum deep into Nicaragua for biology-chemistry and Spanish majors to teaching English to their Hispanic neighbors in northern Indiana to psychology and sociology majors assisting senior neighborhoods and centers. Usually, the service learning is side-by-side with faculty, and often it involves academic research and subsequent presentations.

"We salute Manchester College for making community service a campus priority, and thank the millions of college students who are helping to renew America through service to others," said Stephen Goldsmith, vice chair of the Board of Directors of the Corporation for National and Community Service, which oversees the Honor Roll. "In this time of economic distress, we need volunteers more than ever. College students represent an enormous pool of idealism and energy to help tackle some of our toughest challenges."

The Honor Roll is a collaboration of the Department of Education, the Department of Housing and Urban Development, and the President's Council on Service and Civic Participation.

In 2006, 2.8 million college students gave more than 297 million hours of volunteer service, according to the Corporation. Expanding campus incentives for service is part of a larger initiative to spur higher levels of volunteering by America's college students.

The Corporation, a federal agency, administers AmeriCorps, Senior Corps and Learn and Serve America. For details, and the complete Honor Roll, visit www.nationalservice.gov.

February 2009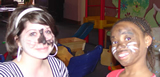 A student, a faculty
member and MC's
coordinator of volunteer
opportunities received top
Indiana honors for service.
Whitney Gray '08 helped build homes for low-income families in Kentucky during during her 2008 spring break with the MC chapter of Habitat for Humanity.