Click here for more about what
The Princeton Review says about Manchester
It's a fact: Manchester
is a "Best Value,"
says annual review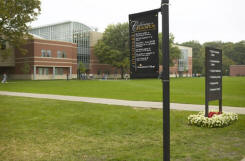 Manchester College is one of the nation's "best overall values – based on cost and financial aid – among the most academically outstanding colleges in the nation," says The Princeton Review in its 2007 guidebook, America's Best Value Colleges.
The annual listing includes 47 "little known gems" among private schools – including the 1,104-student Manchester College! The guidebook hit newsstands today, with profiles of 150 "best" colleges in 40 states. The Princeton Review obtained its data and determined best values by surveying students and administrators at 646 colleges and universities.
Here's what an MC junior told the reviewers: "I didn't want anyone to hold my hand. I was looking for a school that would nurture and challenge me, and I found it." Students also praised the variety of learning opportunities at Manchester, including the popular January Session with study abroad programs and a new Science Center.
Manchester has a firm hold on "Best Value" and "Best College" rankings: The Princeton Review named the college a 2005 and 2006 Best Value and U.S. News & Report has listed MC as a "Best College" for 11 consecutive years.
"It's hard to pick a good college because of the number of variables to consider," said David F. McFadden, executive vice president. "We're glad, but not surprised, that we came out on top when The Princeton Review crunched the numbers.
"Families should take the magazine's assessment that we're a great college as an invitation to dig in and learn more about us, to see if we're a good fit."
Manchester, a Church of the Brethren college in northeast Indiana with 45 areas of baccalaureate study, is nationally recognized for its accounting, pre-med, education and peace studies programs and has the 2002 U.S. Professor of the Year in art Professor James R.C. Adams.
The Princeton Review (www.PrincetonReview.com/home.asp), based in New York City, is known for its test-prep courses, books and education services. It is not affiliated with Princeton University or ETS. For more about the ranking and Manchester College, visit www.manchester.edu