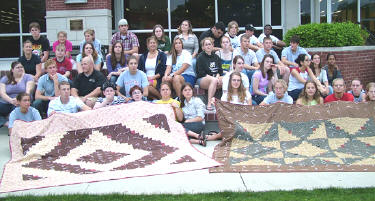 American lit students at Manchester stitch Underground RR quilts for local shelter
NORTH MANCHESTER, Ind. – A course in African American literature led 42 Manchester College students to a far more tactile lesson than those gained from bookstudy and lectures. They handmade two "Log Cabin" design quilts modeled after Underground Railroad quilts constructed during the Civil War, with guidance from quilter Dr. Katharine N. Ings, their assistant professor of English.
And then, in the service tradition of Manchester College, the students donated their handiwork to Hands of Hope shelter for victims of domestic violence and sexual abuse in Wabash, Ind.
The MC students each made one square for the quilts. Each square had a red or black center to symbolize hearth of the home or a sanctuary during the Underground Railroad, respectively. During the mid-1800s, people hung the quilts outside or out windows to indicate their homes participated in the Underground Railroad. Tens of thousands of slaves escaped to freedom in northern states, Canada and Mexico using the network.
The 11-week project is constructed of historically accurate fabric reproductions from The Creative Stitch in North Manchester, Ind.
Quiltmaking was a perfect way to help her students understand the times, said Dr. Ings, noting, "I like to bring culture into the classroom to bring literature to life." Her students agree.
"This was a really good idea because it gave us a look at traditional heritage," said junior Rachelle Grimm of Wabash, Ind.
Linda Wilk, director of Hands of Hope, accepted the quilts from the entire class on May 13. "These quilts designated a safe place and we wanted to donate them to a 21st century safe place," Ings said. Hands of Hope, through Family Services of Wabash County, provides shelter and counseling. To contact Hands of Hope, call 260-553-4407. Manchester College also collects cell phones and personal toiletries for the organization.
Manchester, a Church of the Brethren liberal arts college, provides 45 areas of study to 1,170 students from 29 states and 33 countries. Service to others is an integral part of the college's mission. For more about the collage, visit www.manchester.edu