Consumer advocate Ralph Nader
on campus Sept. 25 – public invited
Famed consumer advocate, author and presidential candidate Ralph Nader brings his opinions to Manchester College on Monday, Sept. 25. Nader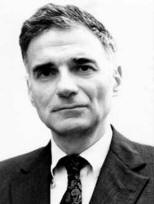 will address the entire student body at 10 a.m. and return at noon for a question-and-answer conversation.
Nader is among a series of lecturers and scientists focusing on the pharmaceutical industry this fall at the College. The public is invited to both Sept. 25 sessions, in Cordier Auditorium on the North Manchester campus. There is no charge.
"It is hard to imagine the rise of the modern consumer movement without the leadership, resourcefulness, and sheer persistence of Ralph Nader," observes The Encyclopedia of the Consumer Movement. Nader has led campaigns for car safety, government accountability, women's rights and tort reform and against corporate power, commercialism, the World Trade Organization and environmental politics. With his book Unsafe at Any Speed in 1965 about automobile design, particularly the Corvair, he stepped firmly into the limelight. Nader was present when President Lyndon B. Johnson signed into law the National Traffic and Motor Vehicle Safety Act of 1966.
Time magazine called him the "U.S.'s toughest customer." As a 2000 presidential candidate, of the Green Party, Nader won 2.74 percent of the national vote, garnering criticism for siphoning votes that might have gone to Democratic nominee Al Gore.
The consumer advocate founded the Center for Study of Responsive Law, Commercial Alert, Public Interest Research Group, Center for Auto Safety, Public Citizen, Clean Water Action Project, Disability Rights Center, Pension Rights Center and Project for Corporate Responsibility.
Nader's visit is funded by Plowshares, a peace studies consortium of Manchester, Earlham and Goshen colleges; and Values, Ideas and the Arts at Manchester College.