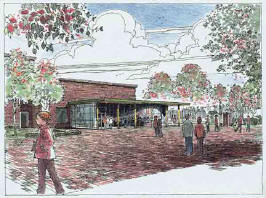 Manchester is breaking ground
again – this time on a new Recital Hall
Community invited to join March 30 celebration
NORTH MANCHESTER, Ind. – A new Recital Hall will greet Manchester College's students, faculty and audiences next fall and neighbors and friends are invited to help get the construction under way. Accompanied by an A Cappella Choir freshly returned from its peace tour of Italy, the college will break ground on the Recital Hall at 3 p.m. on Tuesday, March 30. A reception in the old recital hall will follow the brief ceremony.
The $1.2 million project on the north end of Otho Winger Hall is expected to take just five months, culminating in a hall that will enhance student performances as well as audiences' experiences.
"It's going to lift up the fine arts for Manchester College," said Manchester's Director of Development Mary A. Chrastil, who is the staff shepherd for the Recital Hall Committee.
The Recital Hall will put a striking new facility – a new look – on the center of campus. In addition to a renovated stage, new acoustics, lighting and seating for 172 guests, Winger will get an East Street lobby opposite the College Union. Full accessibility and new, close-at-hand restrooms also are designed into the construction.
Meanwhile, construction is well under way on a $17 million Science Center just across the mall from the Recital Hall. Manchester will not go into debt or raise tuition to pay for either structure. "Generous donors are enabling the College to break ground with construction funds in hand," said Chrastil.
Fund-raising continues, however, to equip the Recital Hall and to provide endowed fine arts programs to ensure Manchester and its students get maximum benefits from the renovations.
The Recital Hall reconstruction in Otho Winger Hall is long overdue. Fifty-two years later, the Recital Hall still looks like the classroom it was constructed to be, with a wall-long blackboard, tile floor and cement block walls. But not for long.
"The audience will find it 100 percent different," said Trustee Carolyn Moldenhauer '61 Hardman, chair of the Recital Hall Committee. A soprano, she performed in the recital hall as a student. "It's going to be warm," she said of the forthcoming audience experience. "It's going to be welcoming. It will be uplifting."
Architect for the 2,720-square-foot renovation and 3,650-square-foot new construction for the Recital Hall is The Odle, McGuire & Shook Corp. of Indianapolis. General contractor is CME Corp. of Fort Wayne.
For an A Cappella Choir that has performed in Carnegie Hall and is lifting its collective voice this spring in the towering cathedrals of Italy, the renovations cannot come too soon. The pianists and jazz ensembles and other instrumentalists are eager to perform within an acoustically "tunable" hall. "I'm excited!" said clarinetist Jennifer E. Hann, a sophomore music education major from Peru, Ind. "The sound will be so much better for my senior recital." Hann currently is in Italy with the A Cappella Choir and will return just in time to sing for the Recital Hall groundbreaking.
The Recital Hall is not just for music majors and minors. Manchester is a liberal arts college and a Church of the Brethren college, so music is an integral element of campus life.
"This is a centerpiece of everything we do – the arts," said college President Parker G. Marden.
Every MC student must complete coursework in experiencing the fine arts, and students of all disciplines (from peace studies to biology-chemistry to education) participate in concert choirs and orchestras and ensembles to expand their college experience.
"The Recital Hall renovation is one more growth indicator for the Music Department, and will be a tremendous asset for recruiting," said Music Department chair, Dr. Deborah E. DeWitt. "New students will be able to take a tour of Winger, culminating in that new Recital Hall, and will see that excitement and growth first-hand."