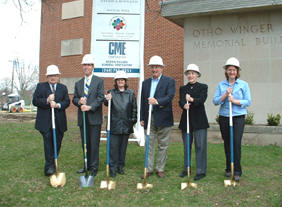 Crowd gathers to sing and applaud
groundbreaking on Recital Hall
NORTH MANCHESTER, Ind. (March 31, 2004) - The Manchester College community was singing with joy Tuesday afternoon, as more than 180 alumni, students, faculty, staff and friends gathered to break ground on a $1.2 million Recital Hall for the fine arts building, Otho Winger Memorial Hall.
The event heralds a five-month construction project focused on fall 2004 classes . and performances. Helping celebrate the event was the A Cappella Choir, just returned from a 10-day tour of Italy, including a performance in the Vatican. Choir alumni in the audience - from recent grads to some who graduated more than 60 years ago - joined the students to cap the groundbreaking with "The Lord Bless You and Keep You."
CME Corp. of Fort Wayne is general contractor for the project designed by The Odle, McGuire & Shook Corp. of Indianapolis. The reconstructed 52-year-old recital hall will seat an audience of 172, and provide much-needed acoustics, lighting, restrooms, air conditioning and accessibility. A striking lobby onto East Street, across from the College Union, also is in the design.
The project is fully funded with cash. The college will incur no debt. A major dedication event is planned for the fall.