Organist Robin Gratz to perform
Sept. 9 recital at Manchester College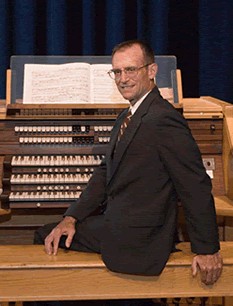 Manchester College organist Robin Gratz will perform in recital on the school's 45-rank Austin pipe organ on Tuesday, Sept. 9, filling Cordier Auditorium with the music of five European composers. The public is invited to the free 7:30 p.m. recital.
A special treat will be the complete set of Schuebler Chorales by Johann Sebastian Bach, published in the last weeks before the German composer's death in 1750. "The transcriptions of arias from Bach's cantatas highlight the quieter sounds and solo stops of the organ," said Gratz, noting the set of six arias is rarely played in its entirety.
Gratz, who is director of Funderburg Library for the College, has served as a church organist for more than 40 years. He holds colleague certification with the American Guild of Organists, is organist for Zion Lutheran Church in North Manchester, and has been a soloist with and accompanied the Manchester Symphony Orchestra and Manchester Choral Society. As College organist, Gratz's music enriches convocations, baccalaureate services and other special events. He is a member of the faculty both as an organ teacher and as library director.
While he has studied piano and organ for decades, Gratz's degrees from Manchester College and Duke University are in history, with his library science master's degree from University of Chicago.
For his Sept. 9 recital, Gratz also has selected music by Belgian Joseph Jongen, Dane Dietrich Buxtehude and Frenchmen Jean Langlais and Eugène Gigout.