Pianist Robert Palmer to perform Tuesday
in Manchester College's new recital hall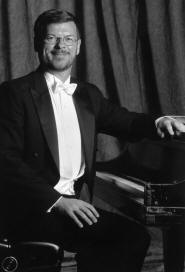 Virtuoso pianist Robert Palmer performs at 7:30 p.m. on Tuesday, Oct. 12 in Manchester College's new Wine Recital Hall. The recital is free, sponsored by the College Music Department.
After his Carnegie Hall debut in 1979, The New York Times heralded Palmer as "poised and thoughtful – he instantly impressed as a splendid player. He cultivates a most beautiful, lucid sound."
For his Manchester College recital, Palmer will perform Beethoven's Andante in F Major, WoO 57; three preludes by Debussy, Polonaise in F# Minor, Op. 44 by Chopin; Internezzo, Op. 116, No. 4 and Internezzo, Op. 118, No. 6 by Brahms; and Variations and Fugue on a Theme by Handel, Op. 24 by Brahms.
Palmer's performances have been broadcast on National Public Radio, and public television in the United States, China, Japan, Korea, Taiwan and Spain. He has been presented in recital by Community Concerts, a subsidiary of Columbia Artists and performs throughout the United States, with engagements in Boston, Chicago, Indianapolis, Los Angeles, Minneapolis, New York, Philadelphia and Washington, D.C.
Palmer, a Steinway Artist, has served as artist-faculty at Ball State University since 1986, and currently is the Mauzy-Porter Distinguished Professor of Music at Ball State. His awards include prizes in the Joanna Hodges International Piano Competition and the United States Informational Agency National Piano Competition
He has made eight tours in Asia and has engagements scheduled in Canada, Germany and Thailand. As a chamber musician, Palmer has joined recitals with musicians from the Paris Conservatoire, the Metropolitan Opera Company, the New York Philharmonic and the St. Paul Chamber Orchestra.
Manchester College dedicated its $1.2 million Wine Recital Hall last weekend. The enlarged and completely renovated structure includes stadium seating for 160, state-of-the art acoustics and lighting.