Indiana SEA applauds Manchester's
future educators with
"Outstanding Chapter" award
Manchester College had the top Student Education Association chapter in the state last semester, says the Indiana SEA, a student program of the National Education Association.
As Outstanding SEA Chapter Spring Semester 2006, Manchester had the most interesting programs, active membership and demonstrated professionalism in education, announced the Indiana SEA at its Oct. 21 fall conference.
The chapter had 109 students, said President Jeanna Collins of Bourbon, a junior education major. Other Manchester SEA officers are sophomore Kristin Davidson of Greenville, Ohio; juniors Jenny Mevis of Lakeville and Sarah Neuhalfen of Greentown; seniors Ashley Libben and Megan Gallmeyer, both of Albion, and Lauren Bailey of Ogden Dunes.
Chapter members tutored children twice a week for 11 weeks to learn about curriculum and standards in today's classroom and worked with an MC science faculty member on three experiments they could do in the classroom. Chapter activities included one-on-one connections with area mentally retarded residents on a prom-type dance, dinner, and a luau.
Manchester offers a rigorous program focused on producing effective educators in today's classrooms. Currently, 263 students are majoring in education; 50 seniors will do their student teaching next semester. For more about the Education program at Manchester College, visit www.manchester.edu.
In addition to early and middle childhood generalist teaching licenses, the College offers licenses in mild intervention, English and language arts, math, instrumental and choral music, French, Spanish, German, physical education, life science, physical science, social studies and visual arts.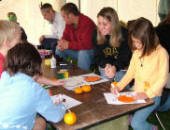 SEA members provide activities for children of Homecoming 2006 alumni