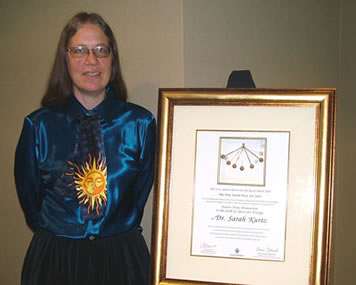 Internationally honored solar cell scientist,
alumna Sarah Kurtz, to lecture
Thursday, Oct. 25at Manchester
The public is invited to a lecture by Manchester College alumna Sarah R. Kurtz on "Solar Energy and Our Changing World" on Thursday, Oct. 25.
Dr. Kurtz received the prestigious international 2007 Dan David Prize for her "exceptional and profound contributions" to the field of photovoltaic energy. The awards committee noted that the groundbreaking discoveries by Dr. Kurtz and colleague Dr. Jerry M. Olsen in high-energy solar cells and the materials used to make them have the potential to help alleviate the world's impending energy crisis.
Dr. Kurtz is a principal scientist for the National Center for Photovoltaics of the U.S. Department of Energy's National Renewable Energy Laboratory in Colorado.
The 2007 Harry H. Henney Lecture begins at 4 p.m. in Flory Auditorium of the Science Center. Dr. Kurtz, a 1979 chemistry and physics graduate of Manchester, also will deliver a convocation at 10 a.m. on Monday, Oct. 22 in Cordier Auditorium.