Manchester College welcomes
Fulbright Scholar-in-Residence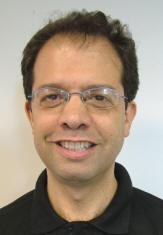 Dr. Jorge Iván Bula Escobar of Bogotá, Colombia, will share his expertise on Latin American politics and economy as a Fulbright Scholar-in Residence at Manchester College for the 2005-2006 school year.
Fulbright officials chose Dr. Escobar for the visiting scholar program with Manchester College in mind, said Julie Garber, associate dean. For almost 20 years, he has lectured on globalization, human rights and Latin American development.
Dr. Escobar has served as a vice-dean of Universidad Nacional de Colombia in Bogotá, where he most recently was academic coordinator of the Ph.D. program in economic sciences. "Our students will have a tremendous opportunity to learn from one of the best minds in the field," said Dr. Tim McElwee, associate professor of peace studies.
In addition to lectures and interaction with the scholar, Manchester College students will have two classroom opportunities to draw on Dr. Escobar's expertise. He will teach a fall course on the consequences and outcomes of globalization on Latin America. He also will lead a seminar on the political, cultural, social and economic conditions behind Latin American human rights problems. In addition, Dr. Escobar will be available as a speaker to groups, organizations, schools and churches.
Dr. Escobar hopes that his teachings will inspire Manchester College students "to think about and even to suggest alternative answers that may contribute to democracy building and peaceful conflict resolution" in Latin American countries. McElwee notes the timing for Escobar's lectures is perfect: "A recent Census has shown that Hispanics are now the largest minority group in the United States, so it is becoming increasingly important for students to recognize Latin American issues."
The Fulbright Scholar's appointment to Manchester College is partially funded by Plowshares, a collaboration of Indiana's three historic peace schools, Manchester, Goshen and Earlham colleges.
Manchester last hosted a Fulbright Scholar-in-Residence in 2000-2001, when Akosua Perbi of Ghana brought history lessons to campus. In addition, Manchester has sent 18 students to other countries on Fulbright scholarships, the most per capita of any Indiana university or college.
Dr. Escobar comes to Manchester College with a doctorate in sociology from the Catholic University of Louvain in Belgium, and an economics degree from The University of Manchester in Great Britain. He plans to arrive in North Manchester on Aug. 15. For more information on Scholar-in-Residence programs visit www.cies.org
To arrange to have Dr. Escobar speak to an organization, contact Julie Garber at 260-982-5026 or jlgarber@manchester.edu