Manchester College receives
presidential community service honor
Manchester College once again is on the President's Higher Education Community Service Honor Roll, the highest federal recognition a college or university can receive for its commitment to volunteering, service-learning and civic engagement.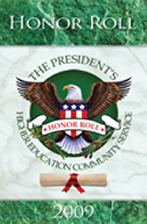 "Congratulations to Manchester College and its students for their dedication to service and commitment to improving their local communities," said Patrick Corvington, CEO of the Corporation for National and Community Service, which administers the annual Honor Roll. "Our nation's students are a critical part of the equation and vital to our efforts to tackle them most persistent challenges we face."
Annually, Manchester College students contribute 19,000 hours to their community, churches and College. Most classes incorporate service learning, as do Spartan athletics, campus organizations, student orientations and faith-based programs.
Student reading tutors in area elementary schools tally more than 2,800 hours annually, and the College's Habitat for Humanity spends a week every spring building homes in the South. This year, Manchester College students raised and contributed funds for Haiti earthquake victims, spent three weeks taking medical supplies and services to Nicaragua and doing service in Jamaica. Read much more about service at Manchester in the spring 2010 issue of Manchester magazine.
The Corporation for National and Community Service engages five million Americans in service through its AmeriCorps, Senior Corps and Learn and Serve America programs, and leads President Obama's national call to service initiative, United We Serve.
February 2009