7 p.m. Sunday, Feb. 3
10 a.m. Monday, Feb. 4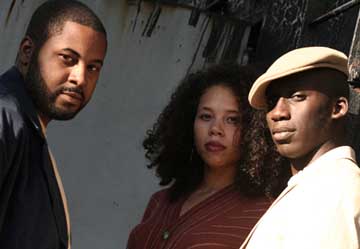 Hip-hop, reggae, West African …
Soulfége hits the Manchester stage
Soulfége brings its West African, hip-rap-reggae sound to Manchester College this Sunday, Feb. 3. The public is invited to the free 7 p.m. performance in Wine Recital Hall. Reservations are not necessary.
The group likens itself to "Bob Marley jammin' with The Fugees and No Doubt on a street corner in West Africa." Expect driving rhythms, tight harmonies, powerful lyrics and authentic musicianship from the Harvard-educated trio and founders of the "Take Back the Mic" movement to challenge youth to speak for themselves.
The videos for their singles Sweet Remix and Sweet Mother air in more than 50 countries across Africa, the Caribbean and Europe, topping charts on both sides of the Atlantic. Soulfége, which recently signed with independent label Left Turn Music, features DNA, Kelley Nicole and Johathan Gramling, with Alex Staley on electric bass and Stix Bones on drums.
While on the North Manchester campus, the group also will perform for convocation at 10 a.m. Monday, Feb. 4, in Cordier Auditorium. That concert also is free and public. For more about the group, visit www.soulfege.com
VIA CREDIT
for either performance
Spring 2008