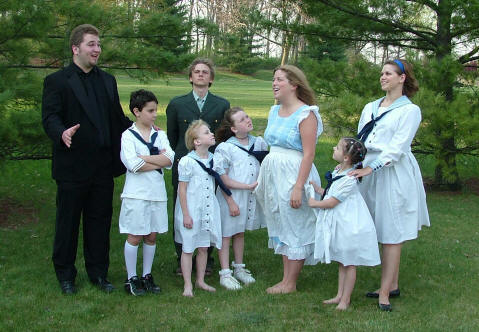 From left: Andrew Haff, Bryce Pyrah, Brooke Pratt, Will Myers, Katy Stuart, Amanda Myers-Walls, Rachel Chapman and Rachel McFadden
"The cast is amazing!" – music director Dr. Debra Lynn
85 musicians and vocalists from
Wabash County and Manchester
unite for The Sound of Music
Area musical residents of all ages are joining Manchester College and the Manchester Symphony Orchestra in bringing one of the world's most favorite things to the stage May 6-8: The Sound of Music. The production combines the musical and behind-the-scene talents of almost 100 residents and MC students in Cordier Auditorium on the Manchester College campus in North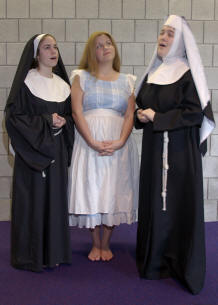 Manchester, Ind.
The Sound of Music will feature 37 musicians of the Manchester Symphony Orchestra under the direction of Suzanne Gindin, assistant professor of music. An ensemble of 18 women will sing the liturgical-style music Richard Rodgers wrote for the chorus of nuns, novices and postulants. More than 120 people auditioned for the production.
The curtain rises at 7 p.m. on Friday, May 6 and Saturday, May 7 and for a 3 p.m. matinee on Sunday, May 8. Tickets are $7, and $5 for senior citizens and non-MC students. Tickets are free for children under 5.
"This cast is amazing! I am especially thrilled by the four young children in the show: Rachel Chapman, Brooke Pratt, Katy Stuart and Bryce Pyrah," said Debra Lynn, stage and music director and associate professor of music at the college. "They are 'on task' in rehearsals and picking up the music and blocking very quickly. This is not an easy production for them, but they are a joy to direct!" Link to Cast
Appropriately, the MSO/Manchester College production comes as The Sound of Music celebrates the 45th anniversary of its first Broadway season, the 40th anniversary of the film version and the 100th anniversary of the birth of Maria von Trapp.
The Sound of Music is the final collaboration of composer Richard Rodgers and lyricist Oscar Hammerstein II, who died nine months after the opening. The score contains more hit songs than any other Broadway musical, including "My Favorite Things," "Do-Re-Mi," "Edelweiss," "Climb Ev'ry Mountain" and the title song. The MSO/Manchester College production has all the Broadway songs, including those cut from the movie, Lynn noted.
"This cast is working hard to develop a show with characters who are similar to what we know from the movie, yet unique to this stage version presented at Manchester College," said soprano Amy Hoffman, who portrays Elsa Schraeder, whom Capt. Von Trapp thinks he wants to marry. "Music, dance, and dialogue make this show a culmination of talents with actors from all age groups," said Hoffman, an MC junior from McPherson, Kan. "Don't miss this fantastic opportunity to support the students, community and theater program."
Tickets to The Sound of Music are available at the door or by calling 260-982-5551. Group seating tickets must be arranged separately, by calling 260-982-5426. (General tickets are not available at this number.) Cordier Auditorium is on the north end of campus, with parking off East Street. Manchester College is 45 minutes west of Fort Wayne.