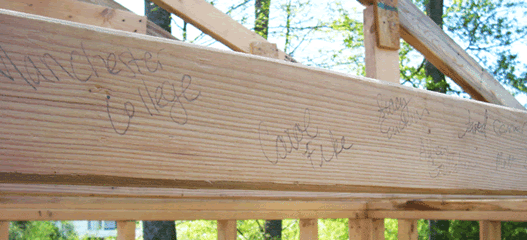 Some students head south for Spring Break,
but it's not all surf and sunshine
This Spring Break, some Manchester College students are headed South, but they won't be lounging on the beach. One group is trading in sunscreen and beach towels for hammers and nails and another group will try out homelessness in a cardboard box. It's all part of a Manchester tradition of studying first-hand the impact of poverty, homelessness and hunger.
Manchester College's Habitat for Humanity chapter is sending 17 students and two faculty members to a Georgia work camp to build a house for a low-income family. The March 27-April 2 trip marks the 24th trip for the College's Habitat volunteers.
Students framing, roofing and hanging siding on the house represent a spectrum of majors – from sociology and physics to business, education, biology, athletic training, English and exercise science.
To help finance the trip, Habitat does two fall fund-raisers. Students raise support for their overnight residence in a cardboard "Shack-a-thon" on the College mall – often on a cold, rainy, windy October night. They also rake leaves for North Manchester residents for donations.
"Working with a group of young adults from Manchester College who choose to invest their spring break in helping a low-income family to become home owners is very inspiring and rewarding to me," says sociology Professor Brad Yoder, who has led most of the College's Habitat trips South (including Hurricane Katrina teams). "I have been privileged to participate in dozens of Habitat home dedications, and there are always tears of joy as the new homeowners are overwhelmed by the difference this will make in their lives, and the lives of their children."
Meanwhile, other Manchester students will find out what homelessness is like. Pathways career exploration program is sending 13 volunteers into a week of "poverty immersion" at Urban Spirit in Louisville, Ky. Urban Spirit is a not-profit organization that teaches about the social hardships of poverty through a week-long simulation, explains Moala Penitani, Pathways program specialist.
Students will assume roles and families, some with many resources and others in various stages of poverty. The "impoverished" students will live in a cardboard box, eat meager amounts of food, sleep on a concrete floor and work long hours to find resources.
Manchester's Pathways students explore service careers while developing their faith and developing professionally in their chosen field. for more about Pathways students, click here.
Manchester College is committed to making this world a better place. Last year, student volunteers logged more than 19,250 hours of service all around the globe. For more information about service at Manchester, visit the websites of the Office of Volunteer Services or Pathways.
March 2010