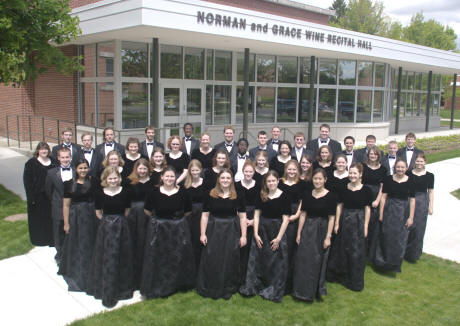 Manchester's Carnegie Hall choirs
embark on spring tour of churches
For its spring choir tour, Manchester College will sing out a wide range of material for six church congregations in Indiana and Illinois – from sacred Latin to gospel, opera, folksongs and the whimsical.
The Chamber Singers and A Cappella Choir are accustomed to challenge. They are warming up for an encore performance next spring in Carnegie Hall, and have performed in the Vatican and cathedrals of Italy. Dr. Debra Lynn, associate professor of music, directs the choirs and has composed some of their music.
The spring evermore and evermore tour begins with a home concert at 7:30 p.m. on Friday, May 12 in the Manchester Church of the Brethren, 1306 N. Beckley. The public is welcome.
Then, the 48-member ensemble takes to the road May 22-28, traveling to churches in Anderson, Indianapolis and Crawfordsville in Indiana, and to Peoria and Elgin in Illinois. All performances except Elgin are at 7:30 p.m. and include a free-will offering. Pianist Alan Chambers will accompany the tour.
Four of the performances are for Church of the Brethren congregations and guests. Manchester is a Church of the Brethren liberal arts college, with 1,104 students. For more about the College and its Department of Music, visit www.manchester.edu
Anderson, Ind. – Monday, May 22 in Anderson Church of the Brethren, 741 Scatterfield Rd.
Indianapolis – Wednesday, May 24 in Northview Church of the Brethren, 5555 E. 46th St.
Crawfordsville, Ind. – Thursday, May 25 in New Hope Christian Church, 2746 U.S. 231 S
Peoria, Ill. – Friday, May 26 in Peoria Church of the Brethren, 4714 N. Sheridan Rd.
Elgin, Ill. – 9:30 a.m. Sunday, May 28 in Highland Avenue Church of the Brethren, 783 W. Highland Ave.