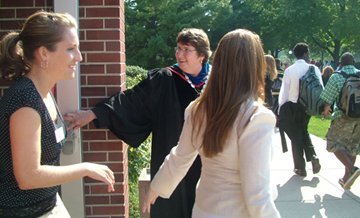 President Jo Young Switzer greets students after opening convo
Manchester College opens doors
to new school year with renewed commitment to student success
Manchester College students arrived at more than a new school year this week.
They found a new space in their College Union that coordinates services mesmerized with helping students exceed expectations – from study tables and one-on-one tutoring to writing skills and career counseling.
They found a faculty electric with the opportunities. Robed in full academic regalia, the 114-member faculty proceeded into opening convocation Aug. 29 to celebrate the 119th year of Manchester College.
"Manchester College faculty feels a sense of moral passion about education that transforms lives and improves the world," said Timothy A. McElwee, associate professor of peace studies, in the faculty greeting to students. "We are committed to this kind of higher education because we have found that when we succeed, a Manchester College education serves our graduates quite well. It serves them well as a bridge … a bridge between human need and social progress, on the one hand, and civic and global engagement on the other."
The new Success Center provides students support all in one location – and late into the night – in the heart of campus, accompanied by inviting areas in the new College Union to study and talk. "We work together with students and faculty to figure out what students' needs are to succeed, offering a whole set of services that we can coordinate," said David F. McFadden, executive vice president of the 1,050-student college that offers more than 55 areas of study.
Students will connect with professionals and scores of peer tutors, join study tables, hone writing skills and get other assistance and advice for their regular classes and honors programs. The Success Center is available until 10 p.m. five days a week, including Sunday evenings – prime study time.
Students also are finding many of their teachers in different offices, the results of a domino move instigated by new space in the College Union and the closing of the aged Communications Center. Education, communication studies and economics faculty changed buildings, and most of religion and philosophy faculty changed floors.
For more about Manchester College, visit www.manchester.edu