College restructures leadership
to enhance enrollment strategy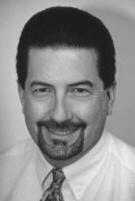 Manchester College has appointed a dean of enrollment to lead a campus-wide strategy that closely links student retention with cultivation of future students, announced Executive Vice President David F. McFadden.
Stuart D. Jones of North Manchester, director of the highly successful Career Center and executive director of a new campus Success Center, now is dean of enrollment. "We had planned a national search for this dean, but we recognized that Stuart has the leadership ability and the skills in student outreach to make him an ideal candidate for this role," said McFadden.
The position emphasizes the College's conviction that recruiting is broad-based effort involving many constituencies, not solely the responsibility of the admissions staff. Jones said he will begin immediately to build referral and recruiting programs that engage key alumni, faculty and staff, and current students.
Joining the College in July 2002, Jones has served on key campus operating, planning and program committees. The new Success Center collaborates student support ranging from counseling to The Writing Center and study skills to underwrite retention and success. Jones also works with student programs ranging from volunteerism, food services and residential life to game broadcasting.
He is former director of Conference Services.
He holds a bachelor's degree from Purdue University, a master's from Christian Theological Seminary and is pursuing a doctorate in education from Northcentral University. He previously managed the Purdue University career center and was development and alumni relations director for Purdue's School of Civil Engineering.
Manchester, with 1,056 students from 27 states and 26 countries, offers a liberal arts education in more than 55 areas of study. For more about the college, visit www.manchester.edu