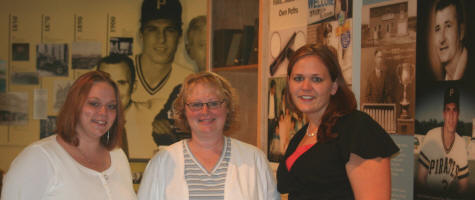 Ashley Lichtenbarger, Megan Frick and Museum Director Tracy Stewart
Lilly Endowment funds jobs to stem "brain drain"
Summer internships introduce
students to careers in Indiana
"Green" use of the county's electronic waste, preserving recollections of area war veterans, investment banking, psychological testing, marketing … 19 Manchester College students are getting a hands-on introduction to all kinds of careers this summer at area businesses, agencies and organizations.
These special internships are intended to help stimulate the local economy two ways: with the creativity and energy of young employees, and, hopefully, in luring the interns to great jobs right here in Wabash County after graduation. The Lilly Endowment Inc. is funding the internships to help the area stem the "brain drain" created when Indiana-educated grads take jobs out of state.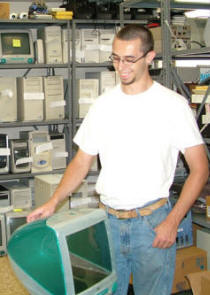 At the Wabash County Solid Waste Management District, senior Will Patch is learning to match people who need something with those who have it, notes his boss, Stephen Johnson of North Manchester. Almost everything that goes through the facility in Wabash is recycled. Patch is learning firsthand the methods for recycling electronic scrap, says Johnson, who received one of the College's first degrees in environmental studies in 1977.
For example, the intern is converting an old computer monitor into a fish tank. "I love working here," says Patch, a chemistry and psychology major from Otterbein, Ind. "The days fly by because they're filled with a little of everything."
May history grad Ashley Lichtenbarger is collaborating with senior communication studies major Megan Frick on a Veterans History Project at the Wabash County Historical Museum. Their summer job: interviewing local war veterans and recording their stories.
For a history and a communications major, this is the perfect internship. "The veterans' stories give really neat insights into history that you wouldn't find out otherwise," says Frick, of Wawaka, Ind. "The veterans always want to talk more," even when time runs out, adds Lichtenbarger of South Bend.
Their boss, 1983 Manchester grad and Wabash native Tracy Stineman Stewart, says the project "really is a matter of life and death," as more and more veterans – and their stories – die each day. She tried to start the project before, but the museum "never had the resources to commit to this project that it deserved."
Some are interning on the North Manchester campus, working online with organizations and agencies on special projects, using College facilities and equipment otherwise idled by summer.
Junior Colleen Hamilton wrote her own job description for campus organic gardener. She is cultivating produce for Chartwells, the College's food service. Zucchini by the bucket, squash, pumpkins, watermelon, cucumbers, carrots, tomatoes … and an herb garden are under the watchful care of the French major on the northeast section of campus.
Hamilton divides her time between weeding, researching sustainable agriculture, and harvesting. Composters donated by the Wabash County Solid Waste Management District are filled with waste from the College Union kitchen.
Other Lilly Endowment summer internships (Wabash County unless noted):
American Red Cross of Wabash County, health and safety director – senior marketing major Elizabeth "Ellie" Davis of New Albany, Ind.
Biomet Inc. legal department, Warsaw – May accounting grad Ashley Davis of North Manchester
Education for Conflict Resolution, marketing, outreach – junior psychology major Melissa Webb of Noblesville, Ind.
Death Row Support Project – senior peace studies major Sarah Hall of Roaring Spring, Pa.
First Federal Savings Bank – senior finance major Ha Phan of Hanoi, Vietnam
Hispanic guidebook – May Spanish and social work grad Tim Polakowski of Rockton, Ill.
Jefferson Road Animal Hospital, Kokomo – senior biology-chemistry major Megan Leese of Kokomo
J.M. Reynolds Oil Co., marketing – junior communication studies major Levi Mikel of Etna Green, Ind.
Learn More Center, literacy – senior accounting major Mark Moon of Silva, Mo.
Merrill Lynch, Fort Wayne – senior finance major Micheal Khayyat of Jerusalem, Israel
Behavioral research on third- and fourth-graders – senior psychology major Leticia Bitner of Tipton, Ind.
Wabash Chamber of Commerce, community development, marketing – senior education major Melissa Heffner of Lebanon, Ind.
Wabash County Council on Aging, marketing – senior psychology major Kelli Griewank of Plymouth, Ind., and senior accounting major Mohammed Abu Zayda of Ramallah, West Bank