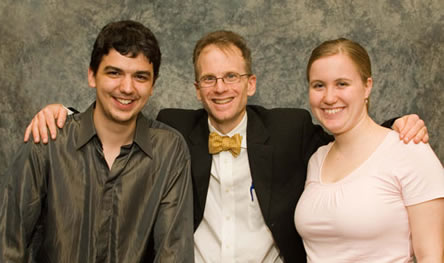 Georgi Chunev, Dean Glenn Sharfman, Sarah Hall
Top symposium scholars focus research
on the galaxy and war crimes in Iraq
Cheers and applause exploded through the standing-room-only crowd in the Manchester College auditorium on the afternoon of April 4th … not for a victorious 3-pointer, but for two research scholars who had just netted The Jo Young Switzer Award for Excellence.
A future peacemaker and scientist each received the $150 top prize in the largest field of competition in the history of the 10-year-old Student Research Symposium:
Senior Sarah Hall of Roaring Spring, Pa., who explored the possibility of Germany prosecuting former U.S. Secretary of Defense for alleged war crimes and torture during the war in Iraq
"Some of the work that you all heard today was graduate level, and I am so happy that Manchester College provides this opportunity for undergraduates to gain some experience at working on projects deeper than typical," Dean Glenn Sharfman, vice president for academic affairs, told the crowd at the awards ceremony.
"I want to congratulate all of you students for doing something when you did not have to, for educating all of us on your area of expertise, and for taking advantage of this opportunity to know your faculty mentor a little bit better," added Sharfman, who sponsored the annual competition.
In her presentation, Hall, a peace studies major, analyzed the likelihood of a trial of former U.S. Secretary of Defense Donald Rumsfeld under universal jurisdiction. She considered crimes allegedly committed, distinctions between diplomatic and state immunity, and the role of universal jurisdiction related to German legal code. Her mentor in the project was Tim McElwee, Plowshares associate professor of peace studies and director of Peace Studies.
Chunev, majoring in computer science and mathematics, had the extraordinary opportunity to study data from a $736,000 research grant shared by other scientists. He analyzed computer data of dust and debris that the orbiting telescope sent to Earth, seeking clues to the evolution of extrasolar terrestrial planets. His faculty mentor for the symposium was Manchester physicist Christer Watson.
The research by the 35 student presenters reflected the breadth of side-by-side study opportunities with faculty at the northern Indiana college, which offers more than 55 areas of study. For more about the liberal arts college, visit www.manchester.edu
Winning Abstracts
Optical Spectroscopy of GLIMPSE Stars with 8 Micron Infrared Excess
Advances in telescope sensitivity and angular resolution are opening the way for new approaches to the search for extrasolar terrestrial planets. When direct observation is not possible, as is often the case, a solution to the problem is identifying stars with debris disks (a signature for planetary formation) based on photometric and spectral data.
In our study, Spitzer GLIMPSE (3.6, 4.5, 5.8, and 8.0μm) and 2MASS (at 1.3, 1.7, and 2.2μm) photometry was used to identify about 450 middle-range temperature (classes A or B) stars in our galaxy, having excess emission at 8.0μm. Among several possibilities, one source of the excess emission could be the presence of a debris-disk. To rule out, or confirm, other causes of the observed infrared excesses, optical spectra (3910 - 6660 Å) for a subset of 23 stars were obtained with the Wyoming Infrared Observatory's (WIRO) 2.3m telescope and longslit spectrograph. The spectra were used to classify the stars, which gave insight into the evolutionary stage of each source and confirmed the accuracy of our selection criteria (class A and B stars).
Finally, the presence of Balmer alpha (Hα) emission lines in some of the collected spectra suggested that ionized gas, as opposed to dust and planetary debris, is the cause of 8.0μm emission excess for these sources. From the 23 observed stars four exhibited Hα emission; six were too evolved; and 13 had all the necessary characteristics to still be considered candidates for young systems with warm massive dust disks – associated with terrestrial-type planetary formation.
Can Former United States Secretary of Defense Donald Rumsfeld Legally be Tried by Germany under Universal Jurisdiction?
This presentation aims to discuss the possibility for former United States Secretary of Defense Donald Rumsfeld to be tried by Germany for war crimes and torture allegedly committed in the current war in Iraq.
The legal issues surrounding such an event are considered with regard to the crimes allegedly committed, distinctions between diplomatic and state immunity, and the role of universal jurisdiction with respect to German legal code.
Concluding the presentation is an analysis of the likelihood of the trial of former Secretary Rumsfeld by Germany under universal jurisdiction for war crimes and torture, updated to include more recent information.