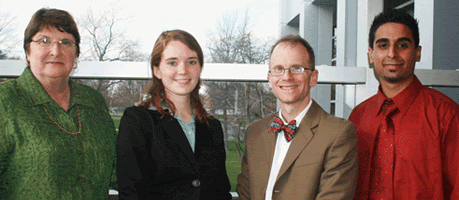 Symposium winners Colleen Hamilton and Utsav Hanspal
with President Jo Young Switzer and Dean Glenn Sharfman
Symposium awards go to students
researching galactic bubbles
and European minority languages
Fascinating research presentations by two scholars on European languages and galactic bubbles have earned them top honors at the 11th annual Student Research Symposium. Receiving the Jo Young Switzer Award for Excellence in Writing for the papers that accompanied their research:
Senior Utsav Hanspal of New Delhi, India, for "Temperature Analysis of Galactic Bubbles," mentored by Dr. Christer Watson, assistant professor of physics. Galactic bubbles are remnants of star formation, and can be the sites of new star formation, explained Hanspal, who studied data collected from surveys using NASA's Spitzer space telescope with Dr. Watson.
Senior Colleen Hamilton of Rockford, Mich., for "A Springtime for Our Language: The Protection and Promotion of Regional and Minority Languages in Europe," mentored by Dr. Beate Gilliar, associate professor of English. Only recently has the Council of Europe confronted the multiplicity of languages within its member states – nearly 100 languages ranging from French to Frisian and German to Galician, primarily regional or minority languages that have defined and protected cultural identities for centuries, said Hamilton, who did research in Strasbourg, France, including interviews with the Council of Europe.
The accomplishment marks Hamilton's second Symposium win during her outstanding career at Manchester College. She won the top prize as a first-year student for her research (in French, then translated into English) on the influence of Voltaire as a playwright. Hamilton spent her junior year studying in Strasbourg.
Hanspal, a biology-chemistry (pre-medicine) major who speaks six languages, has found much to research during his three years at Manchester. In addition to considerable study of star formation, he has researched malarial parasites, the effects of food additives and preservatives, the muscle relaxant drug Tubocraine, stream e-coli and DNA.
A total of 35 students presented their faculty-mentored research at the annual symposium.
April 2009