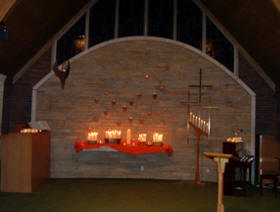 Taize candlelight worship service
shines its light on campus Nov. 14
Inspired by candlelight daily prayer in Taize, France, Manchester College will offer a special service of readings, music, prayer and silence at 7 p.m. on Sunday, Nov. 14 in Petersime Chapel. The public is invited.
The ecumenical Taize service in the Burgundy area of France emphasizes prayer and music. For the Manchester College service, the music will include voice, and an ensemble of flute, violin, guitar, cello, bassoon, harp and piano.
Worshipers will participate in silent prayer, sung prayer, spoken prayer, group prayer and individual prayer. Short songs will be repeated as the service flows in quiet meditation. Scriptures will be read in English, Spanish and French and an extended silence will add to the solemnity of the service. "The silence helps to quiet the mind and soul," says Sonia L. Smith, assistant to the campus pastor. Time seems suspended during the service.
Afterward, worshipers will gather for food, drink and fellowship in the chapel lounge. For more information about the service, please call Petersime Chapel at 260-982-5057.
Taize is a monastic community of 100 brothers from more than 20 countries. Thousands of young adult Christians gather from all over the world every week at Taize to pray and find renewal and refreshment. For more information about the Taize community, visit www.taize.fr and click on your language.
Manchester is a Church of the Brethren college with 1,075 students from 23 states and 30 countries. For more about the college, visit www.manchester.edu