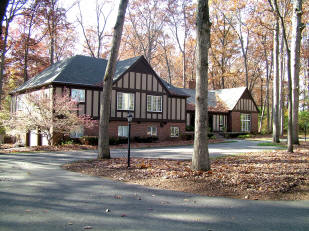 Community invited to Tall Oaks
open house at Manchester College
Manchester College welcomes its neighbors and friends to tour the newly renovated president's residence during an open house Saturday and Sunday, Nov. 19-20. Docents will greet visitors to Tall Oaks, on the northern edge of campus, between 1 and 3 p.m. each day.
"We are eager to share the changes in Tall Oaks with our neighbors and friends," said President Jo Young Switzer, who with her husband David Switzer, are the fifth family to live in the residence.
Tall Oaks was completed in the College woods early in 1970 under the stewardship of 10th President A. Blair Helman and particularly First Lady Patricia Kennedy Helman, who oversaw the construction and furnishing. (Mrs. Helman died Oct. 28.) Last summer, the dining room and kitchen were doubled in size. In addition, Tall Oaks has a new roof, lighting and draperies, and other upgrades. The main floor now is handicapped-accessible and has an entry ramp.
"Tall Oaks has good bones and has served the College for 37 years. Its recent expansion and updates make it even better," said Switzer. "Now we will be able to host larger gatherings and still have a wonderful home to entertain and be entertained by our grandchildren."