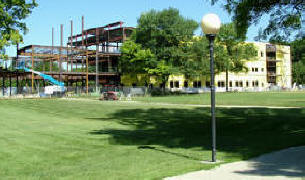 MC to "Top Off" Science Center
steelwork Friday with brief ceremony
NORTH MANCHESTER, Ind. – Manchester College and general contractor R.L. Turner Corp. will celebrate a milestone at 10:30 a.m. on Friday, July 16 as construction workers bolt in the final steel beam on the new $17 million Science Center.
The brief "Topping Off Ceremony" will mark the half-way point in construction of what will be the largest structure on the northern Indiana campus – and completion without serious injury of the most dangerous portion of the 85,600-square-foot project.
The public is invited to the event. Visitors to campus will be amazed at the great progress on the building. R.L. Turner of Indianapolis broke ground on the project in mid-November and already has framed in classrooms and laboratories on all three floors. Exterior masonry also is under way.
The steel beam that will be hoisted into place during the 10-minute ceremony bears signatures and notations by current and former students, faculty and donors. Once the beam is hoisted and bolted into place Friday, construction workers will place an evergreen tree atop it to celebrate safe progression on the project.
The Science Center – paid for without debt through the generous support of donors and incentives from Lilly Endowment Inc. – will house biology, chemistry, physics, environmental science, math and computer science studies. Construction is expected to be complete next summer.
The Science Center will replace Holl-Kintner Hall of Science, built 44 years ago. Holl-Kintner will be refitted for classrooms and offices for other academic departments.
Manchester College has a reputation of preparing students for science careers. For example, 100 percent of MC grads who applied last year were accepted into medical, dentistry, veterinary, optometry and podiatry programs. Manchester is a Church of the Brethren liberal arts college with about 1,170 students from 29 states and 33 countries. For more information about the college, visit www.manchester.edu